A countrywide wayfinding strategy
The FIFA World Cup 2022 – hosted by Qatar – gave the MoTC the perfect opportunity to optimise the country's public transport system ready to serve a large-scale, international sporting event. It was also a chance to encourage Qatari residents to use public transport.
To make their guiding vision a reality, the MoTC developed a long-term investment strategy designed to encourage both residents and visitors to engage with the national public transport network. The challenge was to create a recognisable and cohesive wayfinding family for Sila – the newly implemented brand representing Qatar's integrated transport network.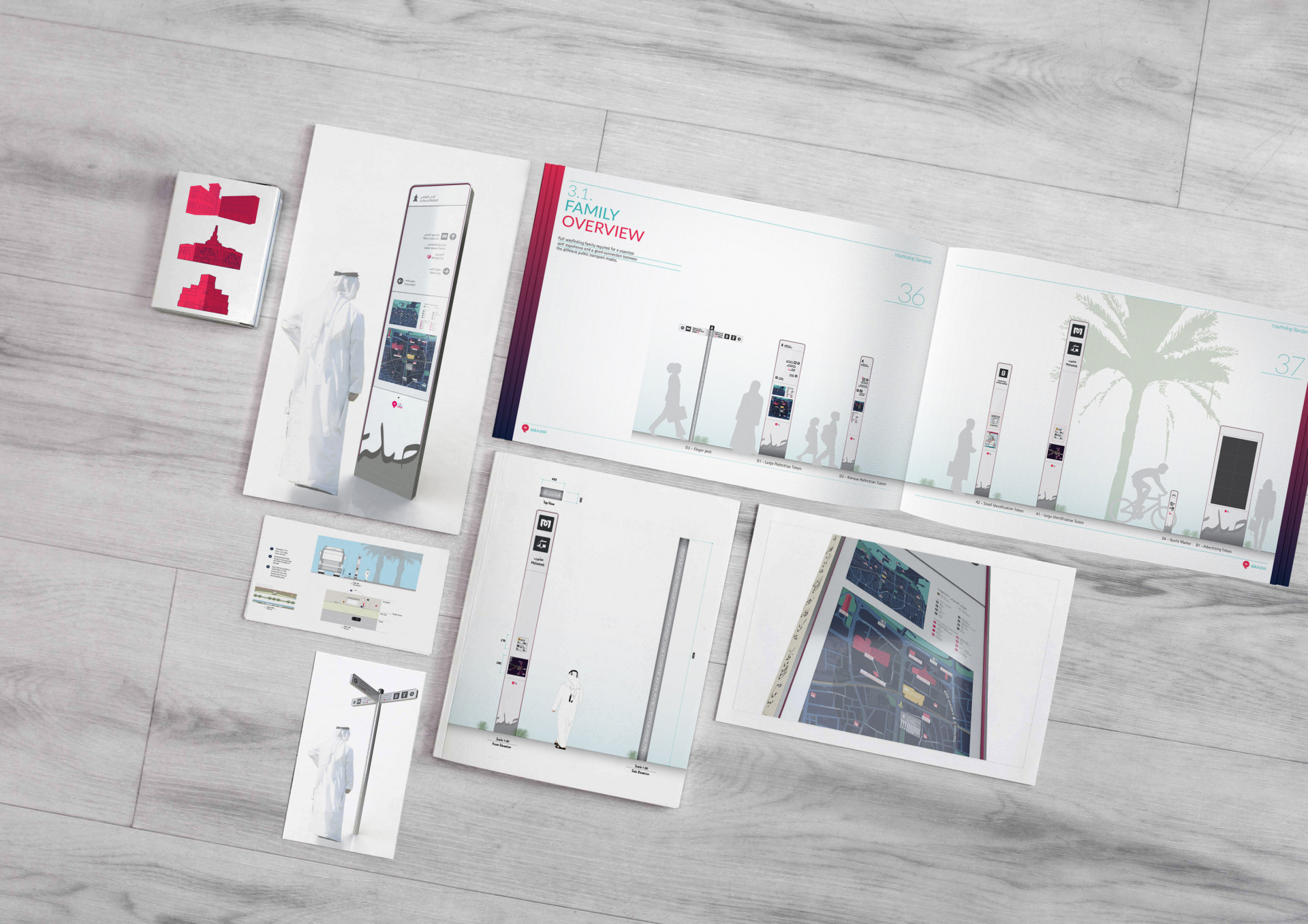 Strategic and step-by-step implementation
Our first step was to understand the transport network in Qatar. We followed this up by clearly defining the objectives of a customised wayfinding solution, using best practice analysis and relevant benchmarking. In the final step, we set about bridging the gap between existing and future wayfinding by designing a comprehensive family of signs.
From a design perspective, we took inspiration from the art of Arabic calligraphy, and these lines from the Qatar National Anthem: "Travel the high road – Travel by the guiding light of the Prophets". This was also incorporated in a unique pattern that adorns physical designs.
Our map and location design work focused on public transport nodes, train and bus lines, major stations, and tourist destinations. Alongside that, we developed special 3D graphics for key landmarks and places of interest within Qatar.

We aimed to incorporate and align our design with the development pillars specified in Qatar's 2030 vision, extending its national identity to all visitors and locals who use the wayfinding system, and promoting Qatar in one spirit and one approach.
This was wayfinding on a national scale. So it was important that we packaged the new sign family with clear application guidelines, alongside a standardised and well-documented implementation plan. That included map design guidelines for the entire MoTC network – executing the final artwork and design for maps in the central area of Doha.
Our package also contained considerations and implications for the MoTC around a specific event – the FIFA World Cup 2022.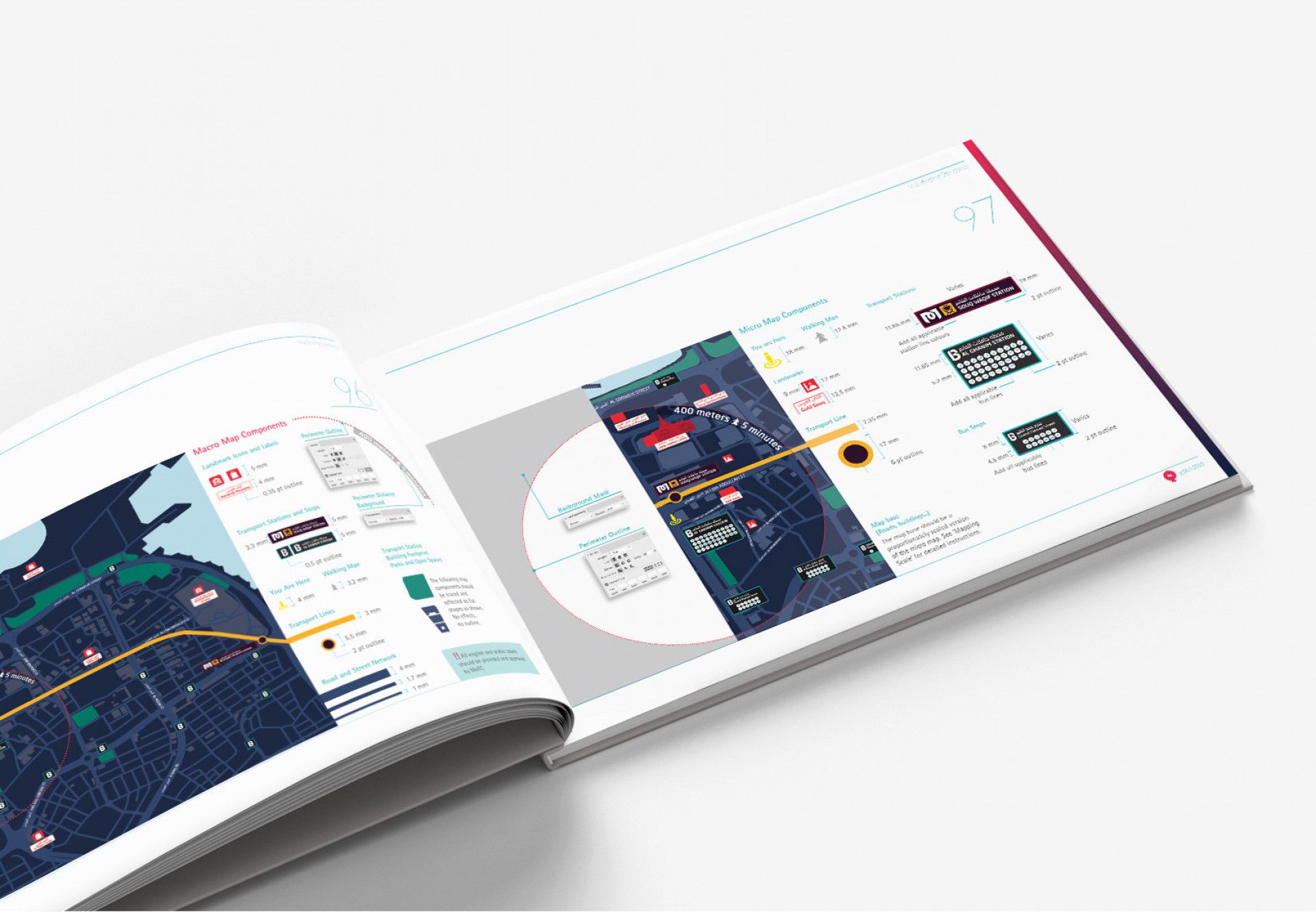 Promoting integrated public transport in Qatar
By providing a cohesive wayfinding system for Qatar's integrated public transport system, we helped the MoTC to transport approximately 1.4 million visitors and locals during the FIFA World Cup 2022.
Enhancing the overall user experience and increasing the visibility and clarity of transport information made public travel much easier for visitors.
We developed two mapping scales (macro and micro) for different wayfinding needs. A macro map is a 2D design in a 'north-up' orientation to provide a general overview of the whole masterplan. A micro map is a 2D design with 3D-style landmarks scaled specifically for pedestrian walking distances. For this reason, a 'heads-up' orientation provides a more reliable sense of direction to users.
Both the macro and micro maps offer a progressive approach towards visitor experience and add value to Qatar's tourism sector. The wayfinding system we developed also helps promote rider-ship amongst Qatari nationals and residents.
Qatar now has a comprehensive wayfinding standard for its integrated public transport system, helping visitors and residents to navigate seamlessly across transport modes within the entire state.