I'm wondering, to what extent do you think how much a brand like Apple spends on its physical environments correlates to how they perform as a retailer?
I think I'm right in saying that Apple is officially the most profitable retailer, per sq. ft., in the world. They are also one of the highest, in terms of what they spend on their fit-outs, per sq. ft., in the world. Does that spend correlate to their success as a retailer? If Asda started tripling the amount they spend per sq. ft. on their stores, would that triple the number of sales in their stores? Probably not. Obviously, we are not comparing apples with apples (excuse the pun) – the success of Asda is based on providing grocery convenience at the lowest possible cost. Their stripped-back stores are clearly doing a good job – Asda continues to successfully bite into market share. You could even argue that if those supermarkets were to spend less on their environments, passing those savings on to the customer instead, the more successful they could be!
Apple, however, sells so much more. The Apple brand lives and breathes through its store environments – they are more 'experience centres' than shops. Somewhere to play, learn, connect and buy their products. The attention-to-detail and ingenuity you find in their products are replicated – even enhanced, I would say, in-store. They treat their retail environments like a piece of industrial design – the tolerances they work to, for example, are far tighter than any other retailer I have known. The steel panels that clad the interiors are shot-peened to a particular finish that only a few vendors can achieve. They arrive cut and ready to go, with a guy at the end who measures the shadow gaps to ensure the details are spot-on. Phenomenal. The point I'm trying to make is, this consistency of thought, care and attention are synonymous with their brand, and this consistency builds credibility, and credibility builds brand equity and loyalty, which means they can command a premium for their products. So, I'd say, yes – what Apple spends on its physical environments is actually integral to its success.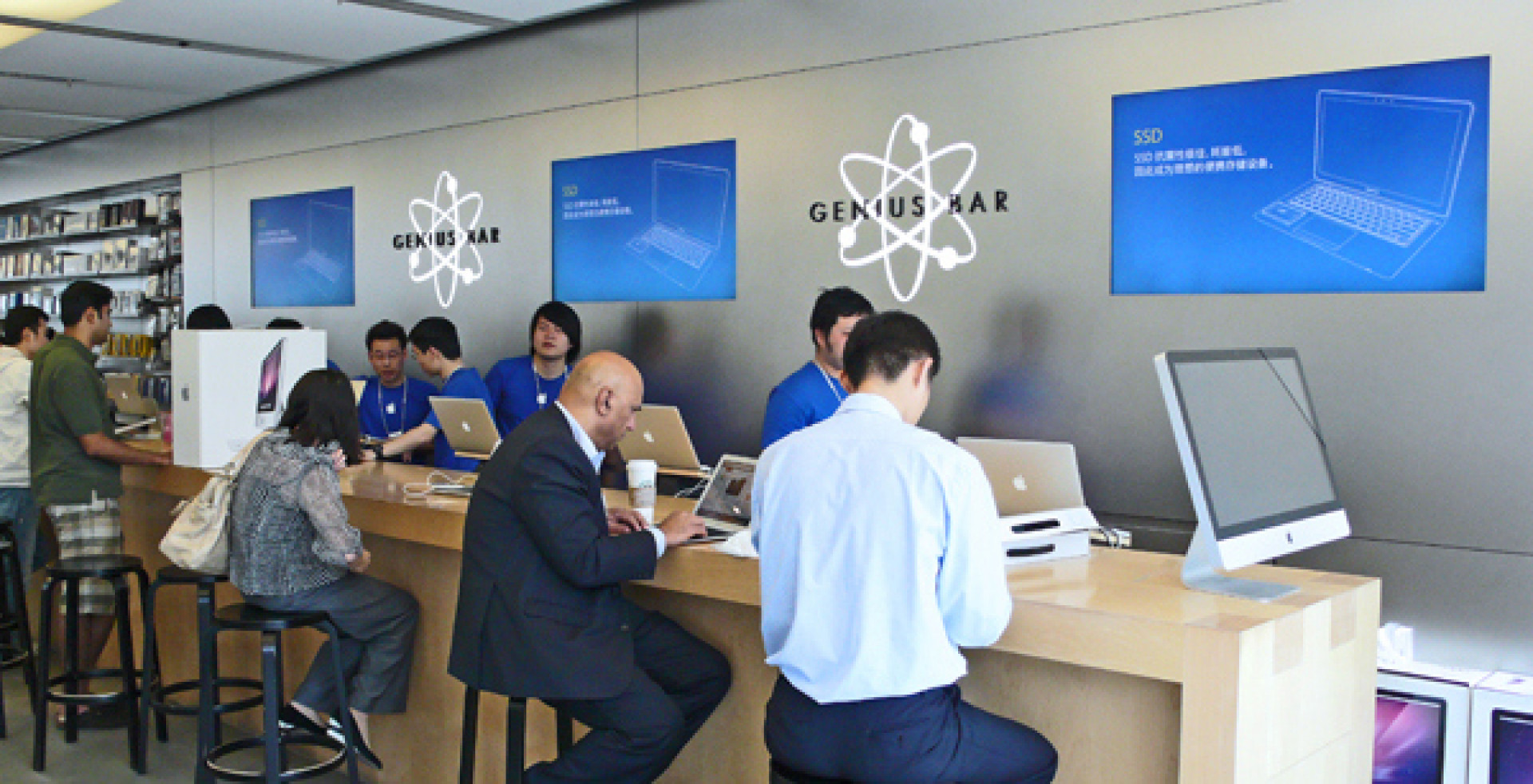 How is it that we help brands with more limited resources, but who still have high expectations?
By being super-creative. We hire smart engineers, as well as smart designers. We think around problems, from every perspective, and often suggest alternatives that are not part of the original design intent on paper but actually gain in translation in the 3-dimensional environment. It's what we have built our reputation on. We bring something extra to the table. Often, just a small tweak or adjustment to a concept on paper can bring huge cost or time-savings and other benefits to the client. Our focus is on making a brand work in the real world is why we enjoy such great relationships with the design community and big brands.
We also stay on top of new products, manufacturing techniques, working with new companies who have a new way of doing things – it means we can suggest new ideas and approaches.

We talk a lot about design quality. Is that always achievable within the budgets set?
Of course! Design quality is one of the reasons we exist. It's our 'reason for being' if you like. Too often in my early career, I would see a great idea pushed through the machine of production and what came out the other end wasn't always the quality the designers imagined. That's why we started Endpoint. In our specialised area of environments, wayfinding and signage, designers knew that we spoke their language, took the same care and attention, understood the aims and ambitions. Both designers and clients knew we could be relied on to help deliver design integrity and at a realistic cost. It has been more difficult to achieve in these more straitened financial times, but that's what good design is: applying your brain to the problem and coming up with something that will work.
I should say also that design quality doesn't always mean sticking with the original design! It's not our job to water down the original design intent of course, but it can happen that for a large brand roll-out with multiple touchpoints, over multiple geographies, trying to reproduce a vignette or a gradient, for example, can be a nightmare and extremely costly. It's our role to make design agencies and clients aware of the repercussions of some design features so that they can make the best, informed decision when it comes to its practical roll out.

When it comes to a global brand roll out, how do you even begin to plan a project on that scale? It sounds like a headache! How can you estimate costs, with any sort of accuracy?
We have developed tools and methodologies – we plan the costs, the various scenarios, timeframes and how to launch. Basically, we get under the skin of an organisation by asking lots of well-practised questions, drawing on a database of costs and unravel how a business is organised. Who owns what? Who looks after sales collateral, vehicles etc? How is Marketing organised, centrally or across geographies?
We build a brand asset list and then help them assess the impact of each, establish which is a priority and then work out a timeframe from there.
We focus on the 'Smart 80/20' (Pareto) determining the 20% of brand touchpoints that generate 80% of the visual impact. For us, it's the most common sense way of working out where an initial spend might be best, and then plotting-out the additional spend over a more manageable timeframe.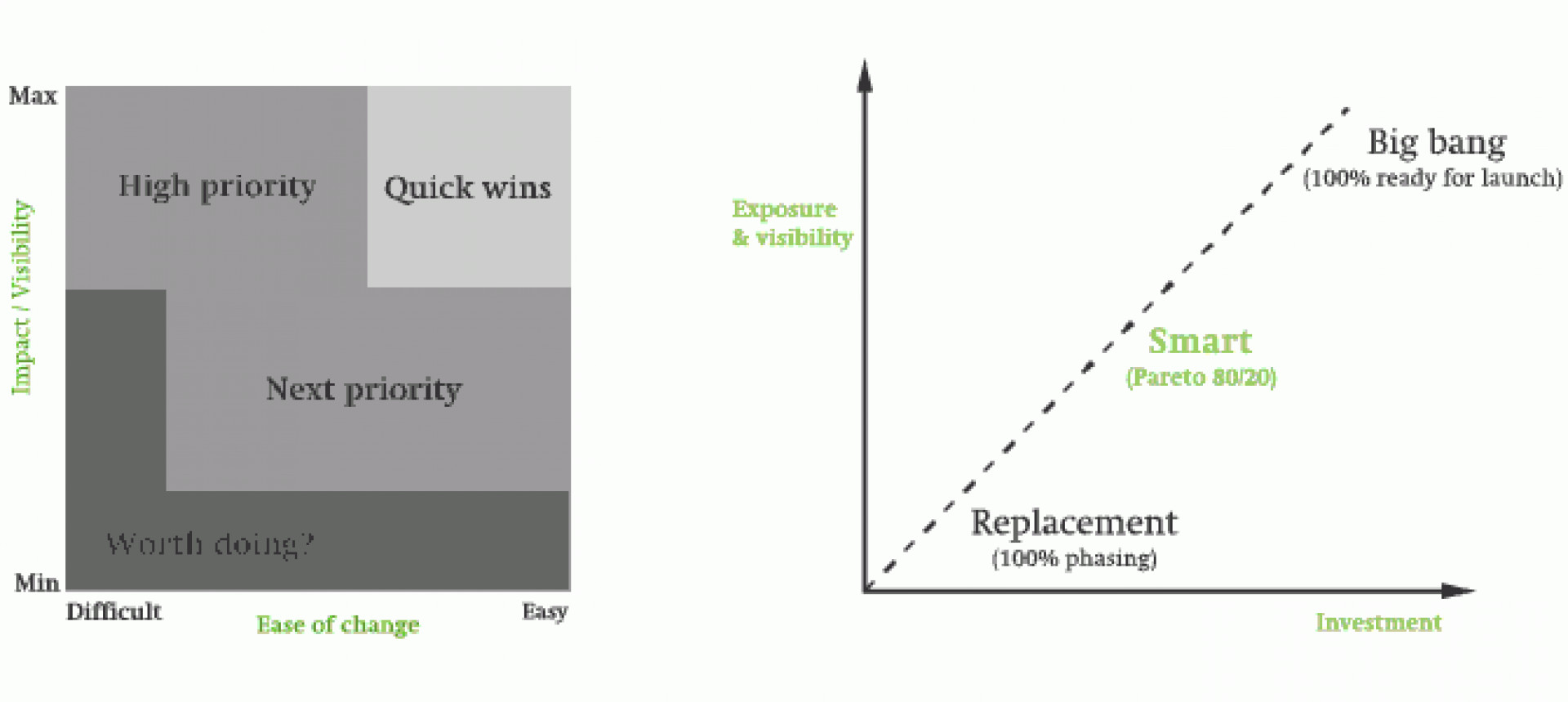 How have you seen our industry develop? Where do you see things going?
Everyone said that as online grew, physical environments would diminish in importance. Actually, I think the opposite is true. What happens in the digital world needs to match in the physical world, with a consistent brand experience. And if it doesn't, brands suffer through bad online PR.

From the Apple store to Google's offices, even the heroes of the digital age recognise the power of the physical to win hearts and minds. I believe this will long continue – the built environment is one of the most powerful channels of all.
Over the last few years, I've seen an explosion of the word 'Brand' to the extent that now even consumers use it, not just the industry. Expectations from consumers are higher; they demand things from their brands and even take a part now in how many of them are shaped. We all have a 'voice', especially through the rise of digital. How brands keep up with this, will be interesting. I think it will be particularly interesting to see how brands react to this increasing wave of anti-brand, anti-globalisation – this is going to be a real challenge.
One prediction I suggest may happen over the next few years, is that rebrands will no longer be kept under wraps – in secret – as they tend to be now. Brands will need to bring their customers along on the journey with them, canvas their opinion, start a conversation with them so that they understand 'the why' of a proposed brand change. Further, they will need to engage in 'story doing' not just 'storytelling' – authentically delivering on their brand promises in collaboration with their customers. I don't think they can afford not to.
Branding will become much less about the logo, and more about the why. How this 'why' manifests itself and translates into the physical environment, will prove interesting.