The amount of investment going into modernising venues has increased the need to generate more revenue from sports fans – something that is going to be crucial moving forward as clubs look to recuperate revenues lost during the pandemic.

However, just as importantly, broader safety concerns – and strict FIFA rules – mean venue owners need to be able to evacuate a large number of people safely in the event of an emergency. And, as reports show, fans want greater COVID-related health and safety concerns addressed as they return to reduced capacity venues.

To ensure all of these needs are met, we know from working on projects such as Everton Stadium that stadium wayfinding and signage design are used as a way of balancing an outstanding fan experience – with safety and navigation firmly in front of mind.

Here are a few initiatives we've seen work successfully.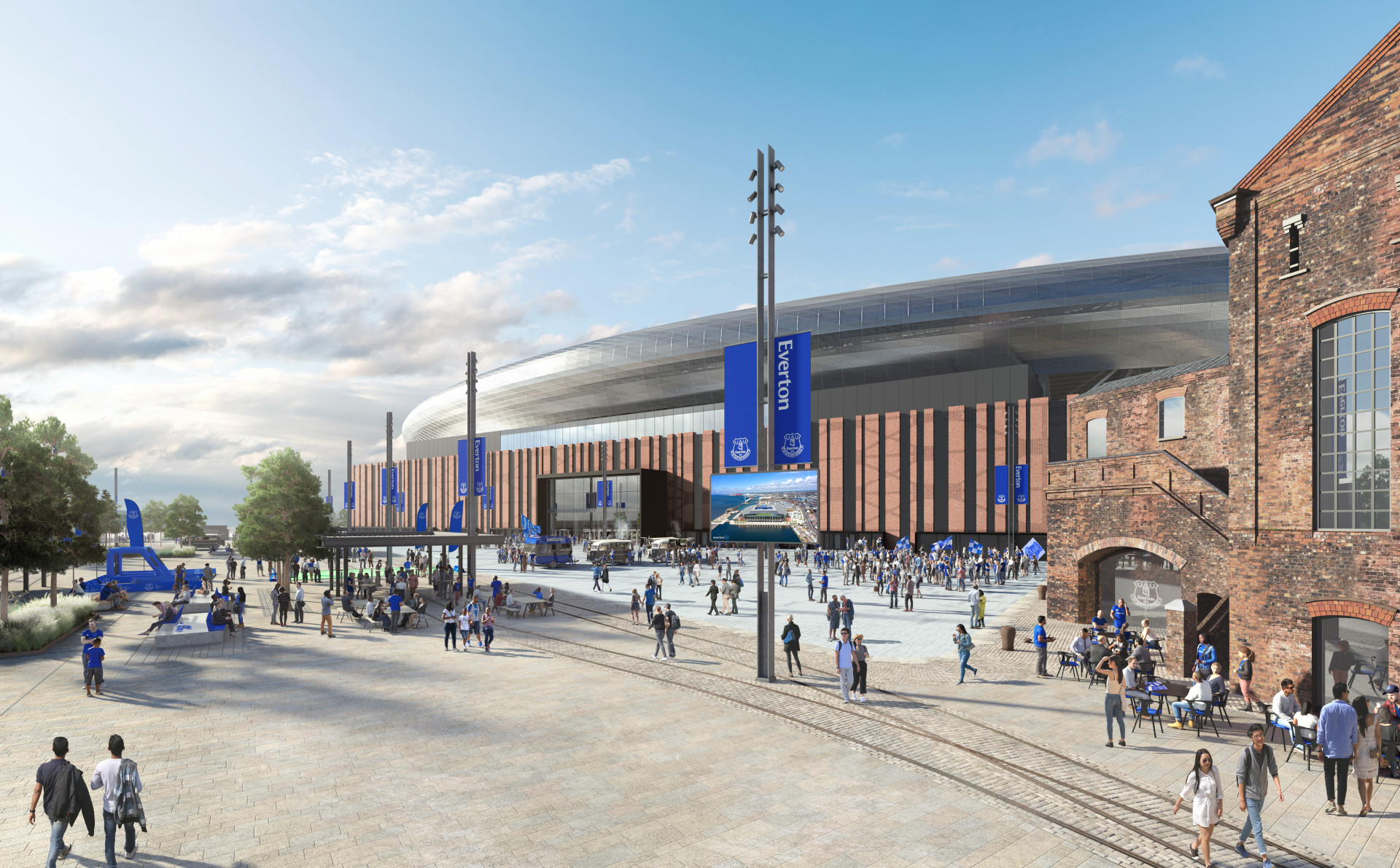 1. Give fans a reason to arrive early
If you'd asked fans to arrive in plenty of time a year and a half ago and you'd have probably been ignored.
But given the impact of the pandemic – and the fact fans will be keen to get back into sporting venues as soon as possible – this no longer seems unreasonable; particularly as additional security and temperature checks will be with us for some time yet.

However, by presenting these requests as official information on pre-visit materials – such as emails, tickets, etc – fans are much more likely to comply.

Consider detailing how long it takes visitors to get past security, inform them of average queue times, and show routes to main entrances from car parks and shuttle drop off points – to ensure maximum expediency.

2. Accommodate crowds at the entrance
Multiple turnstiles work wonders at large stadiums – particularly at general admission entrances, where simple queuing can swiftly turn into frustration for all. At the stadium in Qatar, we worked on, there are two general admission entrances – with multiple turnstiles – which are naturally placed to entice people coming in from different areas, splitting the crowd without being forceful.

3. Build a positive atmosphere
As the crowds arrive, use wayfinding and signage to both inform and inspire. For example; concourse billboards can be used to communicate the 'kick-off countdown' and to tell visitors how long it'll take to get through security and through to their seats. They're also ideal for indicating where they can find food and drink – as on-site bars and restaurants offer huge secondary spend opportunities – and for reminding fans to social distance, wear facemasks, and adhere to other COVID-related measures.
4. Keep people moving through the stadium
Ensuring a steady footfall and avoiding crowded bottlenecks relies on a clear wayfinding strategy backed by bold and simple directional signage. Pictograms work particularly well in international stadiums where visitors may not know the local language.
Visitors will likely have a sequence of numbers, letters, and names to find when looking for their stand, row, or seat. Make all these elements simple and legible, so that each step is clearly defined.

Also, no matter how big you make the toilet signs; people will struggle to find them in a crowded concourse. This is one of those times when bigger is better.

6. Prioritise Technology
Phone usage and internet access are important considerations too. Most visitors expect stadiums to have Wi-Fi, so clubs can use this as an opportunity to gather user data.
Club or venue-branded apps are popular too and can serve both a practical and fun purpose. Not only can visitors use them to pick seats and locate different areas, they can also connect with other fans, participate in the pre-match build-up, and get rewards for on-site spending.

From a back-end perspective, apps also give club bosses the insight they need to track real-time sentiment and spending.

7. Inclusivity
Football clubs thrive on their relationship with fans. Fans come from many different backgrounds and ranges. It is important to acknowledge and support all types of fans that might come to a match. Stadiums are not a place for just young men anymore, they are for families, older people, those with disabilities and anyone that requires an equitable wayfinding solution.
8. Consider the venue's broader purpose
Given their huge capacity, more and more stadiums are hosting functions, conferences, sporting events, and concerts. When designing a wayfinding system, it pays to consider the needs of all the different types of users – literally in most cases.

Overall, what's become clear is that the pressure is on venues of all shapes and sizes to meet very different visitor needs and expectations – while ensuring non-COVID and COVID-related safety measures are in place. Stadium wayfinding has a big role to play here in getting the balance just right – right now and as we look ahead.

Want to find out more about our stadium wayfinding work? Talk to us.