For example, hot desking and remote working are much more commonplace now, as are laptop computers. Plus, we work with numerous international clients, alongside our colleagues at Endpoint Dubai, so Skype and a video conferencing room with decent acoustics are important concerns for us. As more paperwork gets sent into the cloud, we don't need as much cabinet space as we did a decade ago.
However, just as important as practical concerns are the needs, wants, and expectations of our employees. The management team, which includes me, want staff to feel more inspired and able to collaborate. We want our kitchen to be a more social space. Quiet space for focused work is essential too. We've got lots of ideas, but to get some further inspiration, we spoke to a few of our friends whose studios we really admire, to get their take on what they think is important and to find out how their company cultures are reflected in their workspaces.
We spoke with: Daniel Weil, Partner at Pentagram (DW); Owen Hughes, Creative Director at Wolff Olins (OH); and Katy Ghahremani, Director at Make Architects (KG).
Can you tell us a little more about the history of your building?
DW: The Pentagram building was used as a depository for Whiteley's shopping centre and housed horses upstairs and carriages for delivering goods downstairs. We moved into the building in 1984 and it was a paper merchants immediately before that.

KG: Up until 2013 our studio was a public basement car park underneath Middlesex House – a five-storey Art Deco factory.
OH: Our building, 31 St Petersburgh Place, was originally a dairy. Before we moved in, in October 2016, our parent company, Omnicom, gave us a choice. We could have part of a floor at Bankside, the modern steel-and-glass home to many Omnicom agencies; or we could take over an old building being vacated by another of their agencies in a little-known corner of Bayswater. We chose option 2…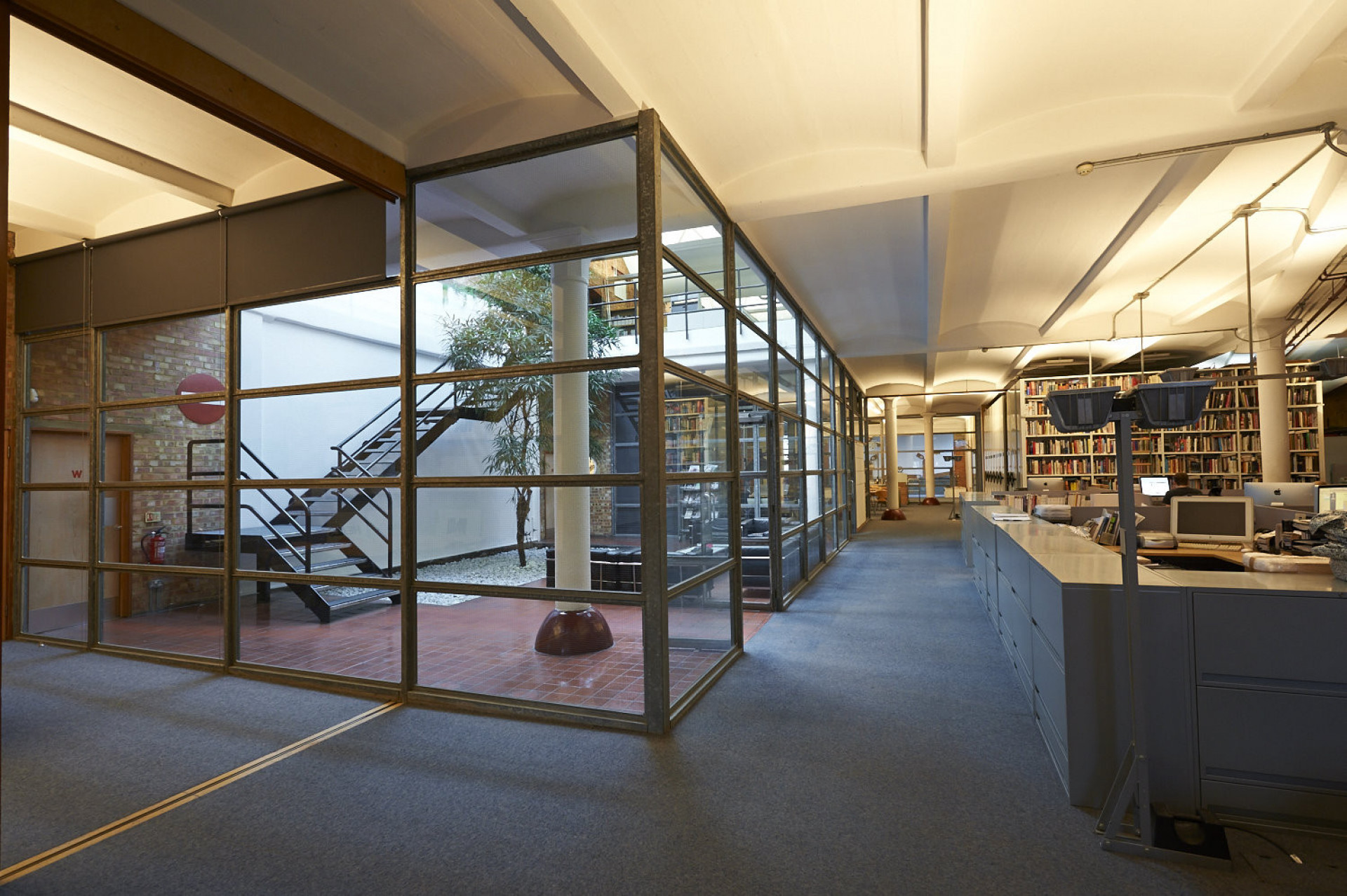 How much renovation was needed? Did you retain any original features?
DW: The building had to be massively refurbished. There was a huge lift where the atrium was, and the building was not watertight. The architect and Pentagram partner Theo Crosby designed the interiors.
OH: Our new space was really tired and unloved – standard issue corporate office furniture, partitions, grubby brown carpet tiles – and the budget and timing to renovate it was extremely tight. But we turned these limitations to our advantage: choosing simple, practical, readily-available materials like sheet ply over expensive materials and repurposing old furniture; creating an environment which feels more like a workshop than a polished showroom.
KG: The design of the main studio has maintained the utilitarian, industrial look and feel of the car park – with exposed services, pipework and timeworn columns. The studio is inherently sustainable as a result of its unique design and its retained original features from the existing car park such as the exposed concrete.
We retained the ramp that the cars would have driven down to access the car park. This has been refashioned into a series of low stepped platforms and acts as the main entrance. The wide platforms provide an opportunity to display our work, and the old crittall windows have been restored to give a glimpse into the studio and activity beyond.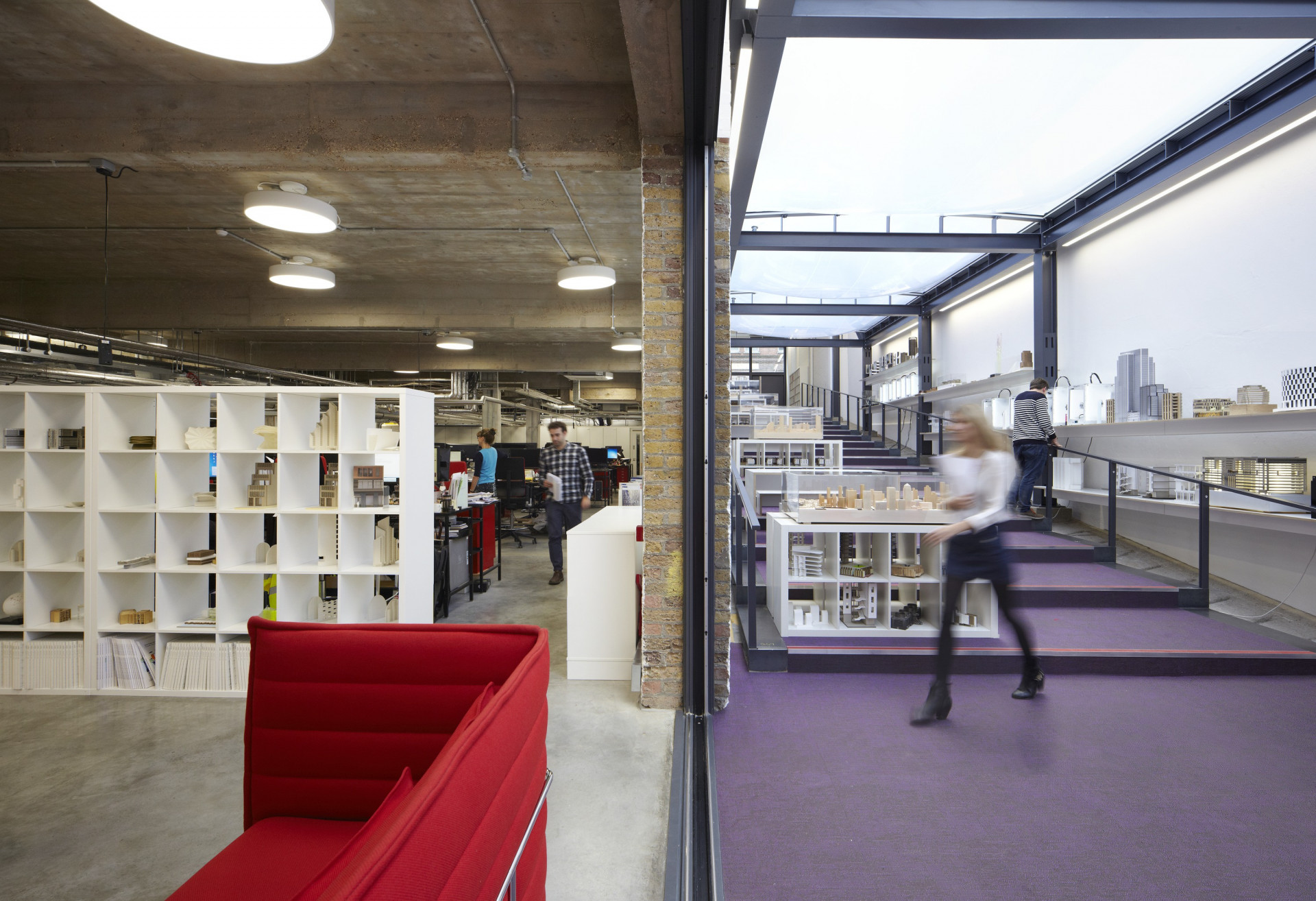 What have visitors said about your studio? Is there a favourite area everyone seems to love?
KG: The overall inspiration was to create a space that was in keeping with Make's non-hierarchical company structure, open plan, accessible and collaborative. As a subterranean space, we also needed to make sure it was light and welcoming. We feel we have created a high-spec studio space which caters to all our employees. The main office adopts an open-plan layout, with four generously-sized meeting rooms and a variety of different break out spaces throughout that cater to different styles of working.
The arrangement of circular desks around the existing, exposed car park concrete pillars has created a unique design feature providing additional desk area and a more collaborative environment. We have higher desks to allow people to come and stand and discuss plans next to the desks without needing to bend over. It is a space that is friendly and functional whilst still being efficient.
OH: Intentionally designing the employee experience has always been a big part of the Wolff Olins brand. Our previous home was a beautiful old warehouse where we'd lived for 25 years, so a move to a smaller, less dramatic space with no kitchen, in West London (which, to our millennials, might as well have been the moon) was a huge challenge.
The design of the space had to be even better and work even harder than the old space – for clients, partners and our people. We looked at how our old space had been working – fewer formal meetings, more working stuff out together – and decided to design almost 50% of our space as an open, flexible space which can be used for meals, informal meetings, hot desks, pop-up team working spaces, client hang-out space, pitches, presentations and events.
The ethos of the space, which we call Open House. Everyone (clients, partners, our people) is invited to make themselves at home. We also involved people from right across the business in contributing ideas for the new space; we created separate working groups for space, the food offer, the well-being offer and the people offer; we did a West London safari and treasure hunt to get people familiar with our new neighbourhood.

What have visitors said about your studio? Is there a favourite area everyone seems to love?
OH: The flexible working area, which we call Chapelside, is the highlight of our space. When there are lots of people all doing different things in there it has a real buzz about it. Clients and partners really like working (or just hanging out) there and it's actually changed how we work as a business. To begin with, some people complained that we didn't have enough meeting rooms, but now people automatically convene on Chapelside which means that more of the work happens out in the open and there are more chance-encounters and unexpected conversations which end up making the work better.
DW: Although very little has been changed from its original overhaul, clients are always commenting on what a great interior it is. There is a very industrial feel to the building, keeping the brickwork bare and using galvanised conduit and window frames have kept the maintenance minimal and kept the building's integrity.
KG: Everyone is surprised by how light it is and the courtyard garden is another firm favourite, as are the retained car park columns many of which still display the scraped paint remains from cars that manoeuvred a bit too closely!
It is quirky and creative and seems to put people at ease as soon as they arrive which is important to us and echoes our ethos. We've always prided ourselves on our open, collaborative nature and so we're pleased that clients move around and through the space.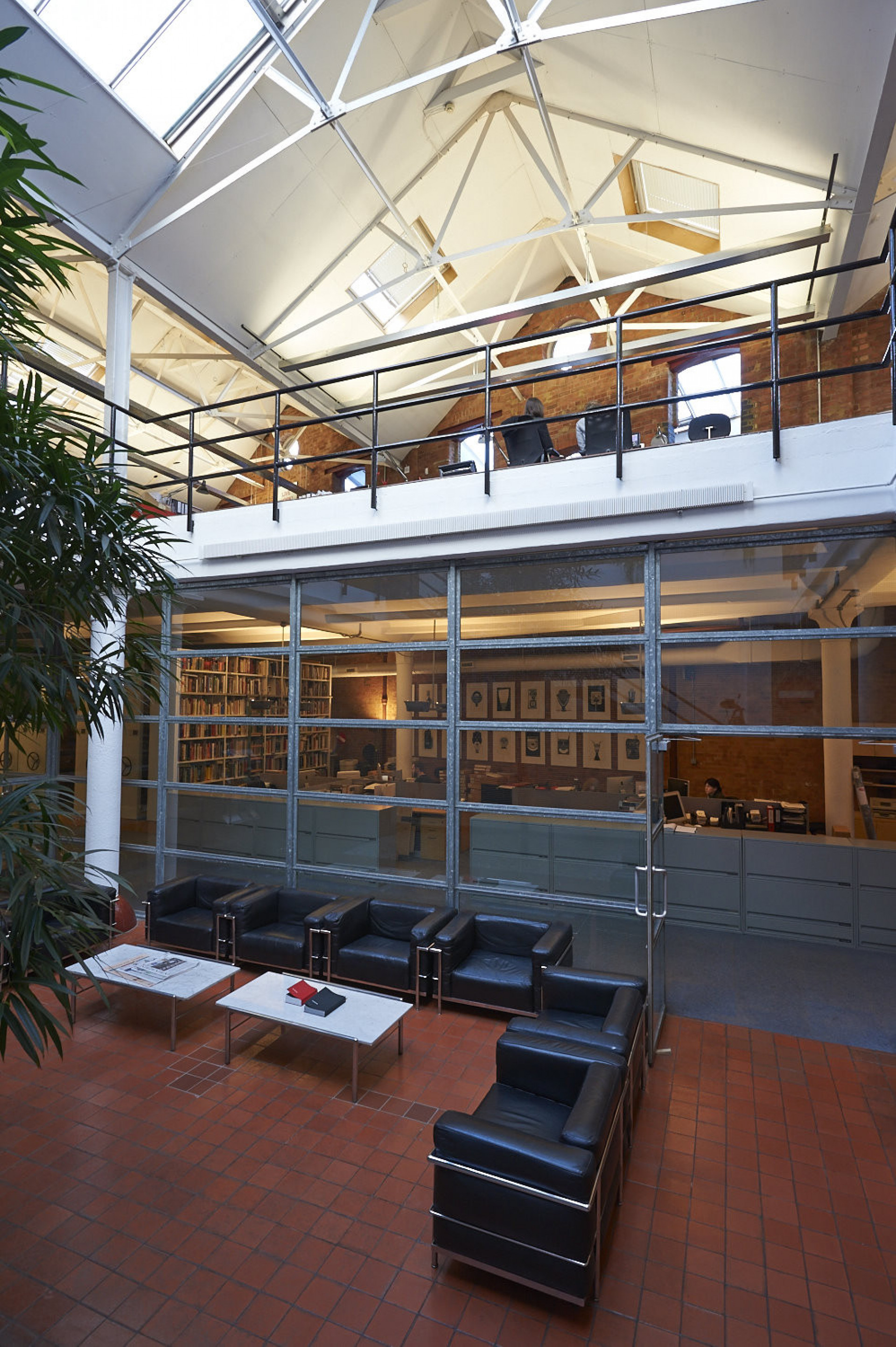 Considering the trends we're seeing in the way people use workspaces, are there any areas of your studio you would change to improve things?
OH: The flip-side of the decisions we've made is that we don't have enough quiet spaces – to make a private call or just to take 15 mins time-out. Luckily, Hyde Park, is less than 5 mins walk away.
KG: We are currently looking at ways to green the space more in line with WELL standards. And as we host so many events we are also investigating ways to accommodate an improved F&B offer without detracting from the studio's main function.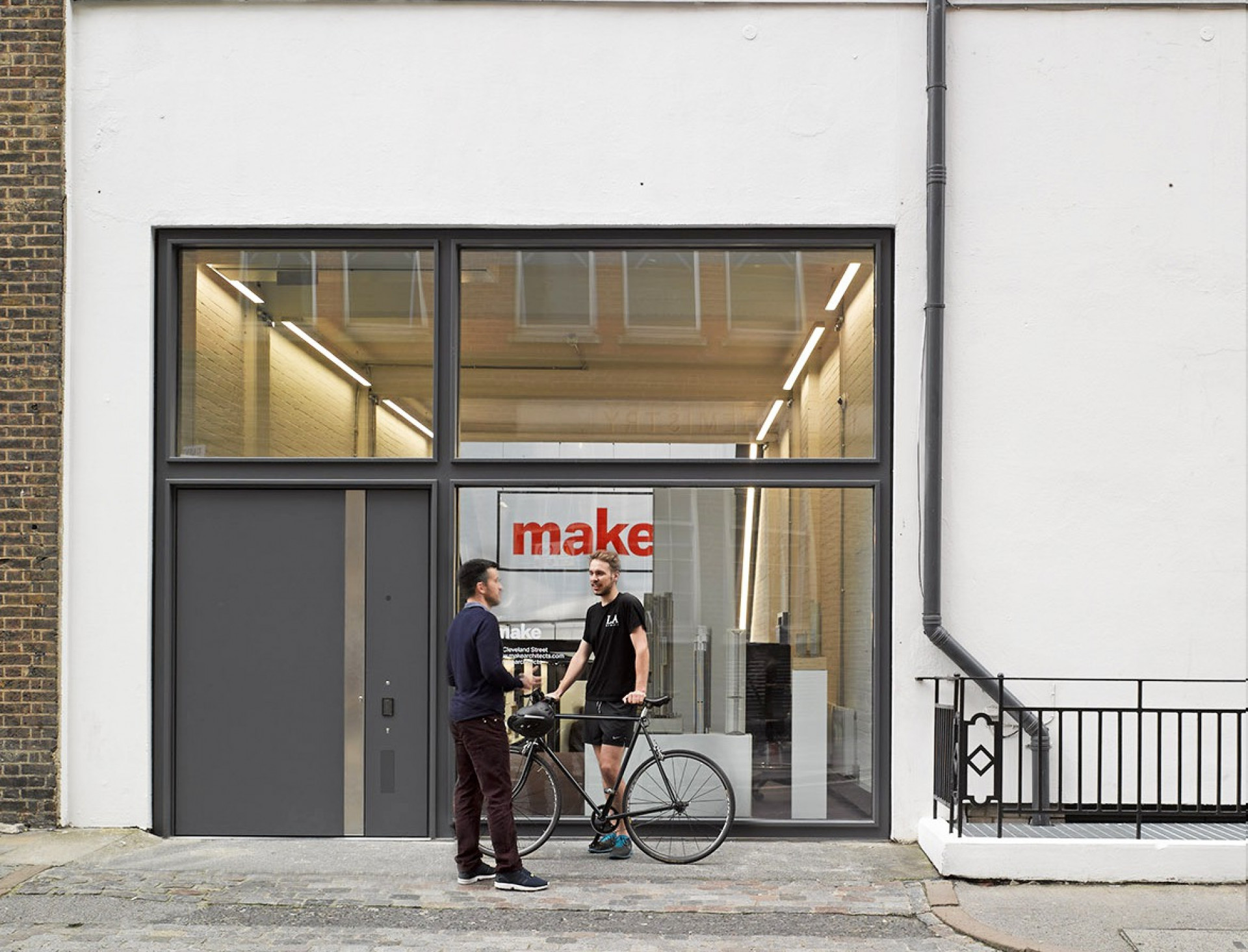 Think of a space, time, or place… are there any other studios you'd like to have worked in?
OH: I have really fond memories of the first studio I ever worked in. There was one big table in the middle and everything happened around that table: sketching, thinking, arguing, sharing, eating, chatting. People only went on to their Macs to artwork stuff. It felt properly communal. No-one was precious about their ideas or their work.
KG: I love Italy and the work of Carlo Scarpa. He had an amazing understanding of materiality and craftsmanship. He was famous for inhabiting the sites he was working on before starting the project, so he could really get a feeling for it. We have so much technology nowadays to make life easier for us but to be afforded that luxury in terms of time and cost would be incredible. Plus, you'd get to experience Italy in an incredible era.
There's some great stuff here. For me, it's interesting to hear how attention to wellbeing, company values (ethos), and having a variety of workspace typologies have all influenced the design for these studios. Getting that balance of functional requirements and emotional needs will be an important part of the brief to our studio designers.
Thank you all so much for contributing to our future plans and for sharing some of the stories and insights into what makes your studios so outstanding. Our renovations are slated for summer 2018, and we're looking at a few options right now. Rest assured we'll keep you posted. Watch this space!