Practical realities to consider
As a wayfinding designer who's worked on many retail wayfinding projects, I know that delighting and entertaining customers means both catering to their needs and exceeding their expectations.

There are practical realities to consider too. For instance, a lot of stores are laid out in a similar way for two main reasons: to keep vertical circulation centrally and open up the floor, to give people a better idea of the environment, and to encourage customers to spend as much time as possible in-store.
With this in mind, it's easy to understand why you'll typically find the beauty section by the main entrance (to optimise expensive impulse buys) and why department store cafes are usually on the top floor (the reward at the end). There are also practical adjacencies (such as placing sunglasses next to swimwear) to consider.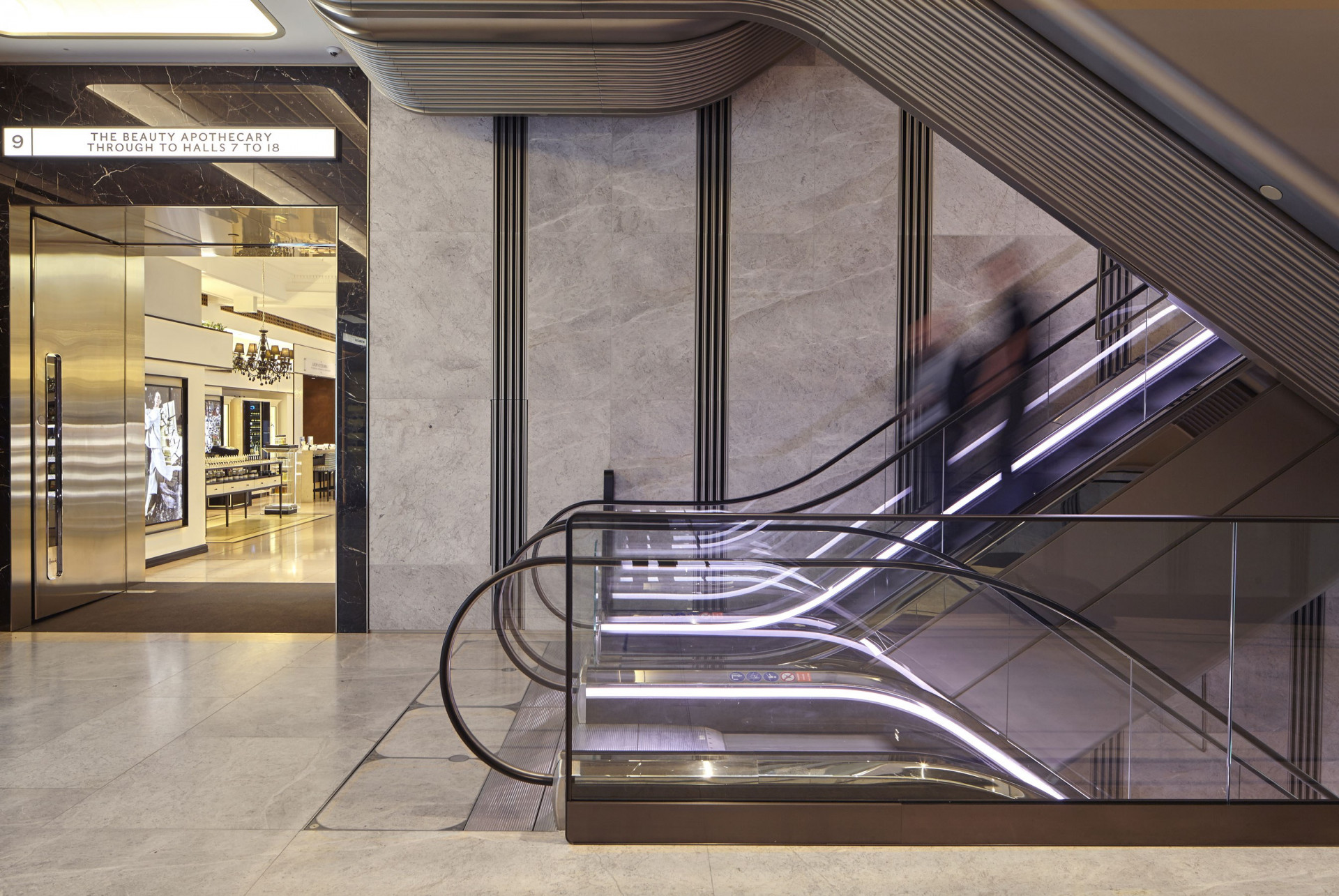 Different drivers, different ways to delight
Understanding human behaviour is crucial to get wayfinding right. In retail, there are two main mindsets: task-based and hedonic.
Task-based wayfinding is typically seen in supermarkets, chemists, discount stores, and card shops. Consumers go into these stores with a goal to purchase something specific.
Conversely, hedonic wayfinding is essentially geared towards those that are 'shopping for pleasure' – when customers may have a couple of items in mind but are more inclined to take their time, wandering, enjoying the atmosphere, and moving between departments.
Department stores, for the most part, are concerned with both types of customer. There needs to be a focus on creating retail experiences to pull people into the department store and away from internet shopping. Larger stores that sell a combination of everyday goods and considered purchases, also require low effort experiences too.
But combining the two shouldn't come with any compromise. Big department stores are individual brands in their own right – something we were keen to maintain when we created a new retail wayfinding system for Harrods last year.
Case: Harrods
Harrods has over one million square feet (90,000 m2) of selling space: 330 departments. Our challenge was to reinforce brand consistency in an environment where shoppers with very different needs can easily become frustrated with a seeming lack of consistent navigation.
After researching store traffic flow, we found that Harrods faced similar challenges to large museums and art galleries: complex room structures, inconsistent vertical circulation points, and multiple facilities. Our solution was to introduce a simple room numbering system – which was widely adopted and used within other store navigation tools: digital services, printed maps, and guides.

To make the in-store customer journey even easier, directional totems were created to clearly signpost the new numbering system – using elegant signage that tastefully matched the interior architecture.
These changes made huge improvements to visitors – whether they were daytrippers, foreign guests, or local residents. For example, while Harrods' food hall is very different to a supermarket experience, many frequent customers knew the floor well and where to get what they needed. To make their experience easier, without detracting from the hedonic aspect for others, we suggested an existing entrance be reopened – giving task-based shoppers an instant 'exclusive' way in and out of the hall.
Customer needs comes first
An idea we strongly believe is that in retail, good wayfinding should be a silent salesman, effortlessly guiding customers across the store. But it also does so in a way that enables each customer to make the experience their own: to create an environment where the customer is 'fashionably lost' in the moment – where they can stumble upon new and exciting things.
Perhaps department stores should be more hedonic as task-based shopping is now part of the online retail experience. Apple, for example, creates stores that don't look or behave like stores. There are no tills, you are actively encouraged to interact and play with the products, there are experts on hand and events to join.
As digital elements become more aligned with the overall customer experience, wayfinding has a big role to play here too. Imagine being able to navigate a department store using an app; one where you wayfind by a specific colour, texture, or material for the ultimate personalised experience.
It's this sense of discovery and personalisation combined with the functional aspects of retail that truly creates an aspirational-shopping destination.