Office space projections
A recent Gartner survey found that 74% of CFOs plan to move at least 5% of their previously on-site workforce to permanently remote positions post-pandemic.
We've already seen companies like Twitter and Square adopt a 'remote working' model. Facebook and Google have recently announced plans to allow staff to work from home for the rest of the year. Other businesses are sure to follow suit.
In the short to medium term, Carter Jonas' Q3 2020 report on the London office market forecasts reducing demand for office space in London. This correlates with rising levels of office vacancy, declining rents, and extended rent-free periods.
Conversely, for tenants facing lease expiry or break options, this creates an exciting opportunity to take advantage of friendlier lease terms – allowing them to consider alternative solutions.

Collaborating in creative spaces
Glenigan's November 2020 forecast projects an increase in office refurbishment projects over the next two years with firms remodelling existing areas to create more collaborative spaces.
With the pandemic prompting a review of the daily commute, many firms may adopt a more localised, hub-based model – requiring less square feet in a single, central location, but an increased number of smaller spaces in more varied locations.
But how can building owners nurture these communities to increase longer-term revenues?
Pre-pandemic, companies were already starting to focus on creating open spaces, promoting collaboration in the office and hotdesking. Globally, there was also an increasing demand for flexible office space.
But no-one wants to move into a dead space.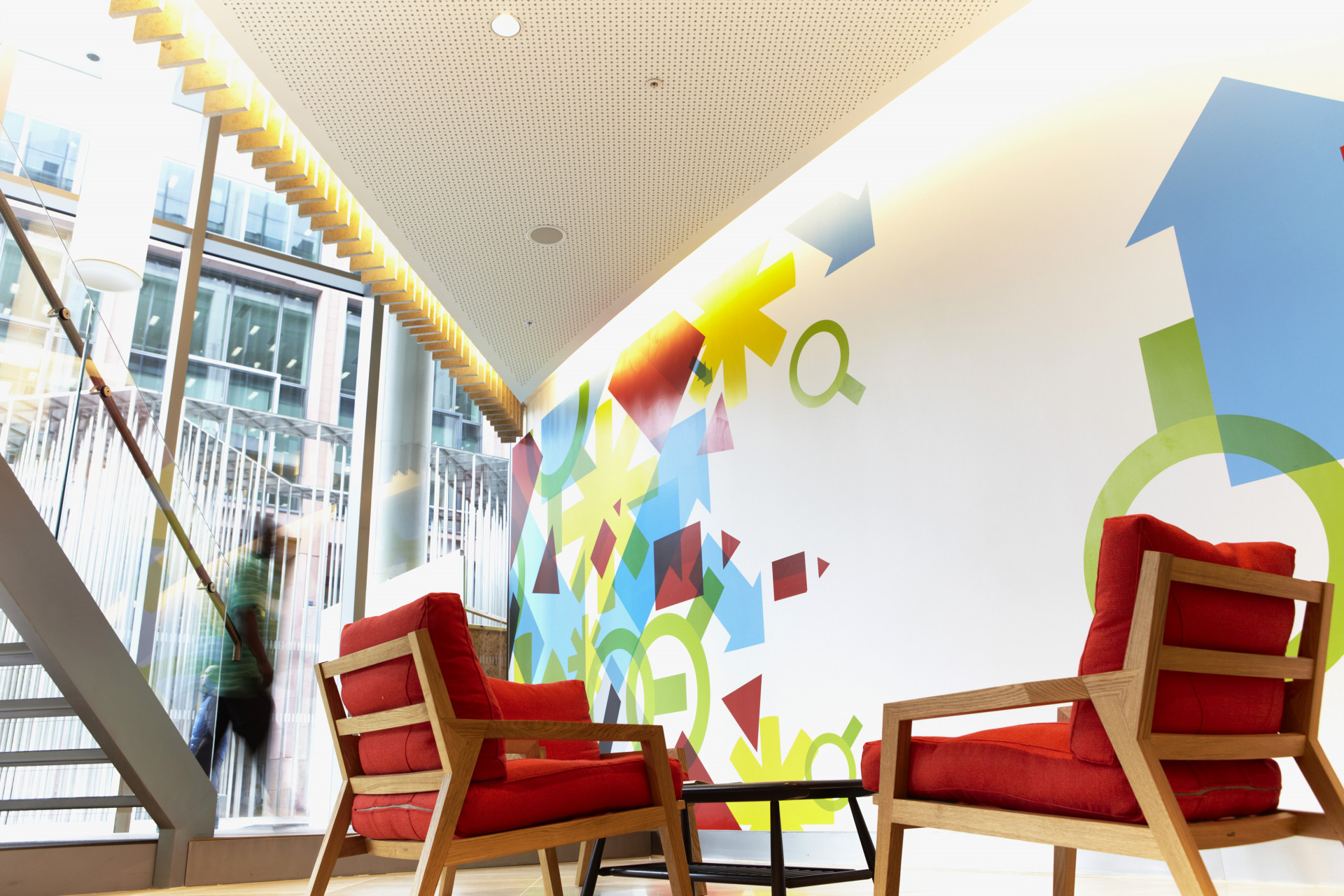 A sense of belonging
With shorter, more flexible leasing options for businesses to choose from, landlords will need to work harder to create lively, engaging, and desirable workspaces.
Part of this challenge involves; making spaces more inviting so that they can ensure occupancy, use their buildings more effectively, and help businesses create their own branded environments.
Take our recent work for Blackbaud and Just Giving who joined forces after the former was acquired by the latter. The challenge of bringing these two very different companies together in a single space needed to be reflected in their new shared environment.
Our concept focused on collaboration, wellbeing and a sense of belonging for all – which was reflected in the colour and graphics we suggested – to be applied across their workspace.
Ultimately, a workspace needs to be somewhere people want to be and stay long term. If tenants like the ambience of the space they're in, and it gives them something they don't have at home, it becomes somewhere they can thrive and remain. In that respect, the work environment also plays a part in helping recruit and retain staff.
Environmental graphics help to create and reinforce that connection, purpose, and employee happiness.

Is your office building ticking the right boxes? At Endpoint, we're experienced in understanding the challenges facing modern workplaces and can offer strategic advice on environmental graphics and wayfinding.

Get in touch if you would like to discuss your workspace.