Although both companies were working for a common goal, they played different roles in achieving it. Realising it would be a challenge to bring the two cultures together successfully in a single space, a Culture and Branding team was formed – to help bridge their very different ways of working.
Blackbaud asked us to work as part of this team to produce an environmental branding package that recognised and celebrated the two teams coming together – producing and creating concepts that would reflect the strategy.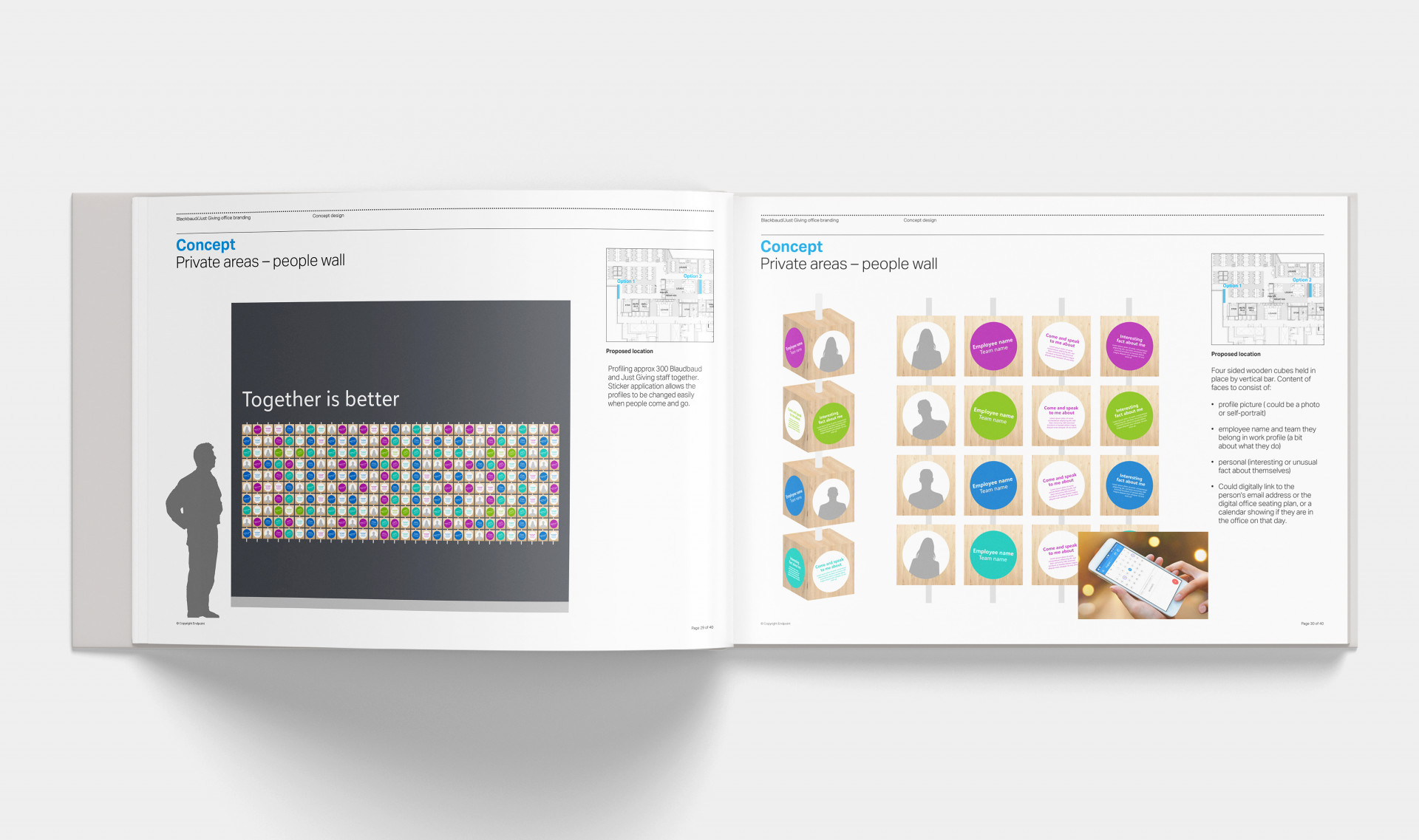 Similar aims, different approaches
From the very beginning of talks between the internal team – comprised of Blackbaud and Just Giving employees, other stakeholders, and culture consultants Kin and Co. – it was clear that both businesses saw themselves and their purposes very differently.
However, during these consultation sessions, it became apparent that both teams had a similar overall philosophy. Discussions around shared ideas gave rise to the fact that they both aimed to 'power an ecosystem of good that builds a better world'.
Translating ideas into environmental graphics
Understanding the issues that arose in the workshops was key in helping us make the right recommendations for the new workplace. Building on this unified perspective, we began to consider numerous ways in which it could translate to the new office environment – across common, shared, public, and private areas.
Establishing common ground between the two companies also extended to the use of colour. Our challenge involved finding a way to balance the two-colour palettes when applying them to signage and design assets. Ultimately, we proposed using Blackbaud's signature grey and Just Giving's white; and a combination of secondary green, purple, and blue Pantones.
Adding personality to workplace branding
Given the importance of storytelling – in particular, the personal tales that underpinned Just Giving's work – we set out to add a sense of personality to many of the interior elements – something which would also highlight individual staff roles and responsibilities.
We created a number of environmental branding concepts – from a statement feature wall showcasing the companies' joint mission statement to a fun interactive staff directory using a series of wooden blocks.
We also presented graphics for columns, doors, and windows – and a large hanging cloud installation for a meeting room area.
All concepts helped to promote collaboration, well-being, and a sense of belonging for all.
A positive, proactive place
Our aim was to help both Blackbaud and Just Giving staff create an environment that would give everyone a greater sense of belonging, pride, and to boost positivity around the acquisition and their need to collaborate.
We gave them some great ideas which helped them to find a structure that they liked and implemented.