Keeping things in context
The location for this board is the foot of the staircase near the Academy's main reception – a space with a predominantly Edwardian feel in keeping with the 1911 building.
We knew there was an opportunity to push creative boundaries while respecting the building's history and architecture. The donor board would have something of a dual purpose: to celebrate significant and distinguished donors today and inspiring others to join them in philanthropic support of the Academy. This piece needed both longevity and adaptability – to be a significant piece of interior architecture, with the capability to grow as new donors are added.

Right on cue
The design was beautifully simple. We took our cues from musical instruments. Form was dictated by the panelling on this section of the wall and the concept we wanted to convey was the repetition of sound.
The vertical repeated form was driven by instruments and the sound they make – derived from the energy of sound and music and the definition: 'Sound is the energy things produce when they vibrate'. We looked to recreate this energy through the vertical repetition of the donor bars to provide a dynamic yet measured aesthetic.
This dynamism was reflected in the forms created throughout. However, there was a real need to avoid being too literal or limiting representation to a single or select number of instruments.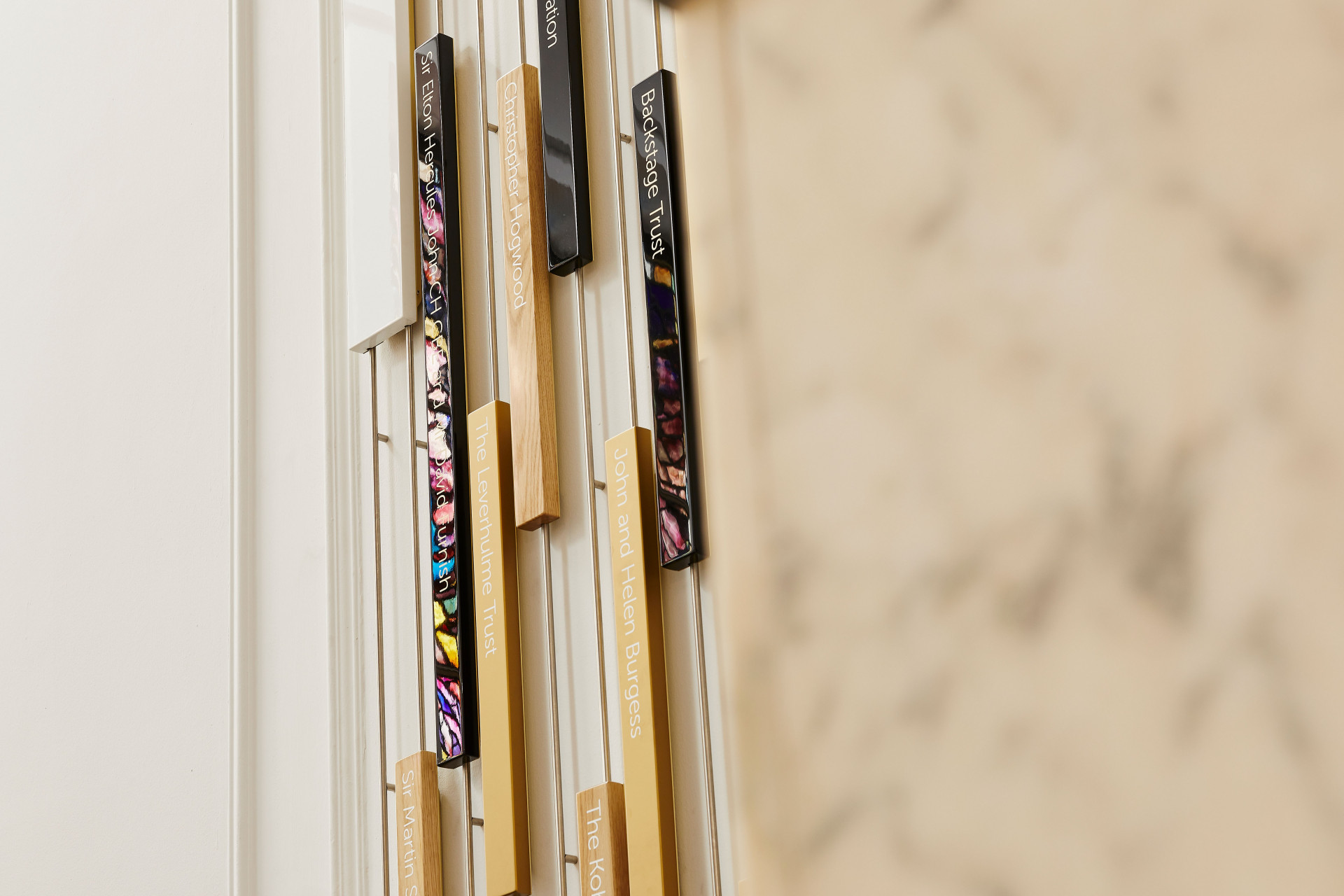 In perfect harmony
To be inclusive of a broad musical range, the materials needed to be symbolic, so we chose black gloss and gold finishes synonymous with a Steinway piano – with the timber finishes alluding to stringed instruments.
Having previously completed a donor board design for the Royal Opera House, we had the experience and knowledge of the challenges surrounding similar projects.
Overall, we're proud and excited by the final design and confident that the Royal Academy of Music's donor board is enough of a statement piece to stand the test of time.