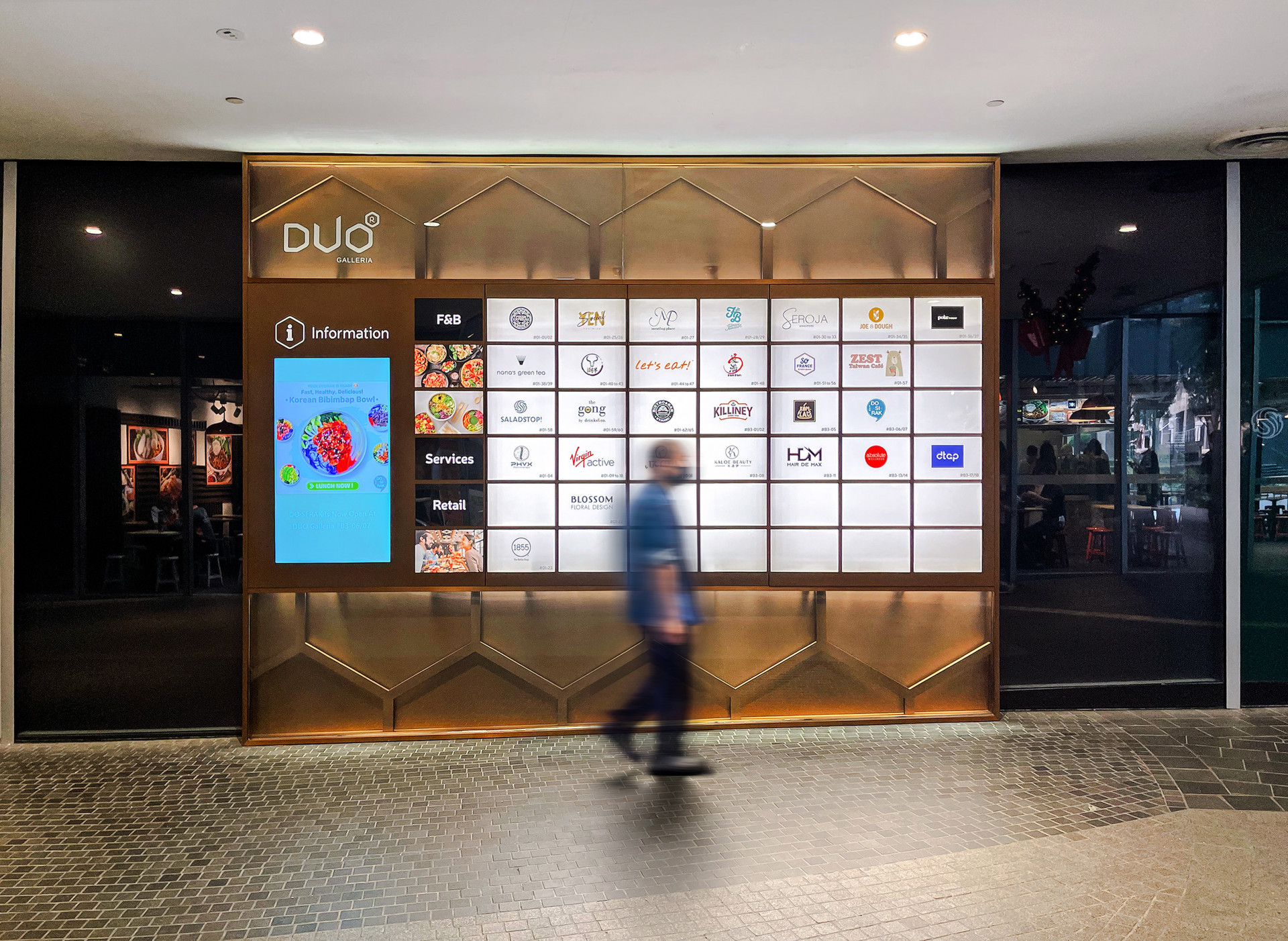 The need to seamlessly navigate in and around DUO
Singapore is one of the world's most desirable cities to live in. DUO is all about community and connection. A mixed-use development containing residential, offices, and retail space, it also houses a connection to Bugis MRT station at basement level.
Situated between the city's expanded commercial zone and the historic Malaysian district, the site forms a civic centre connecting old and new, residential and commercial. A joint venture between Malaysia and Singapore, it balances and integrates commerce with community.
Getting the wayfinding right was important for both tenants and visitors. In fact, tenant and visitor satisfaction was at the heart of the wayfinding and navigation system design for DUO. Tenants needed to be easily found by customers, and visitors – passing through the building on the retail levels – needed clear guidance to reach their chosen destinations.
That's why the client appointed Endpoint to provide a full wayfinding consultancy service for the public realm, the site-wide exterior landscape, car parks, lift lobby connections, MRT connection, and retail on Level 1, Basement 1 and Basement 2.
An improved and integrated wayfinding experience
Our team began with an auditing survey of the site. From people commuting to work in the office tower via the MRT station to visitors trying to locate food and beverage outlets, clear navigational guidance was central to the project.
Taking account of this, we delivered signage schemes – from concept to implementation – taking inspiration from the honeycomb exterior. Part of our solution was to use an enlarged font and bring in high contrast and sustainable materials – stainless steel in coffee colour with white text – to ensure readability.
We also ensured there was adequate signage at key decision-making points and prominent locations, including the entrances, which were previously unmarked. To address the challenge of customer's tenants not being able to locate their destinations, we introduced touchscreen tenant directories and maps across the site. These interactive tools have significantly improved customers' ability to easily locate their desired outlets.
Our new effective wayfinding system is closely aligned with the brand guidelines, adopting the forms and pictograms to enhance the sense of place. That includes bringing the brand out into the surrounding public spaces through the entrance, ensuring a smooth and intuitive navigation experience for everyone.