A breath of fresh air
Their new position is summed up with one line – 'A breath of fresh air' – a beautifully fitting phrase for how far Haven has pushed itself into fun and exciting modern holiday parks. After launching their new advertising campaign and then focussing on the on-park experience, Bourne Leisure asked us to help them bring the breath of fresh air into the holiday parks, as one of their primary challenges has been wayfinding.
Each Park varied in age, style and approach. However, it was clear from both holidaymakers and staff comments that the parks were challenging to navigate, inducing stress, and influencing overall satisfaction levels. Part of Haven's aim is to actively engage with environmental issues such as coastal erosion, alternative power sources and recycling, so this was a part of their brief, ensuring that the wayfinding supported these activities.
Haven wanted us to understand the scale of their wayfinding challenges, propose a strategic approach and generate some big navigational ideas to excite stakeholders and express their new position. They were also particularly concerned about two areas that have received the most negative feedback – the arrival experience and the ease of finding the beach for the coastal parks. They wanted us to set out a creative approach that cured their navigational issues while also creating stand out. Ultimately the team asked us to go big or go home! A challenge we accepted.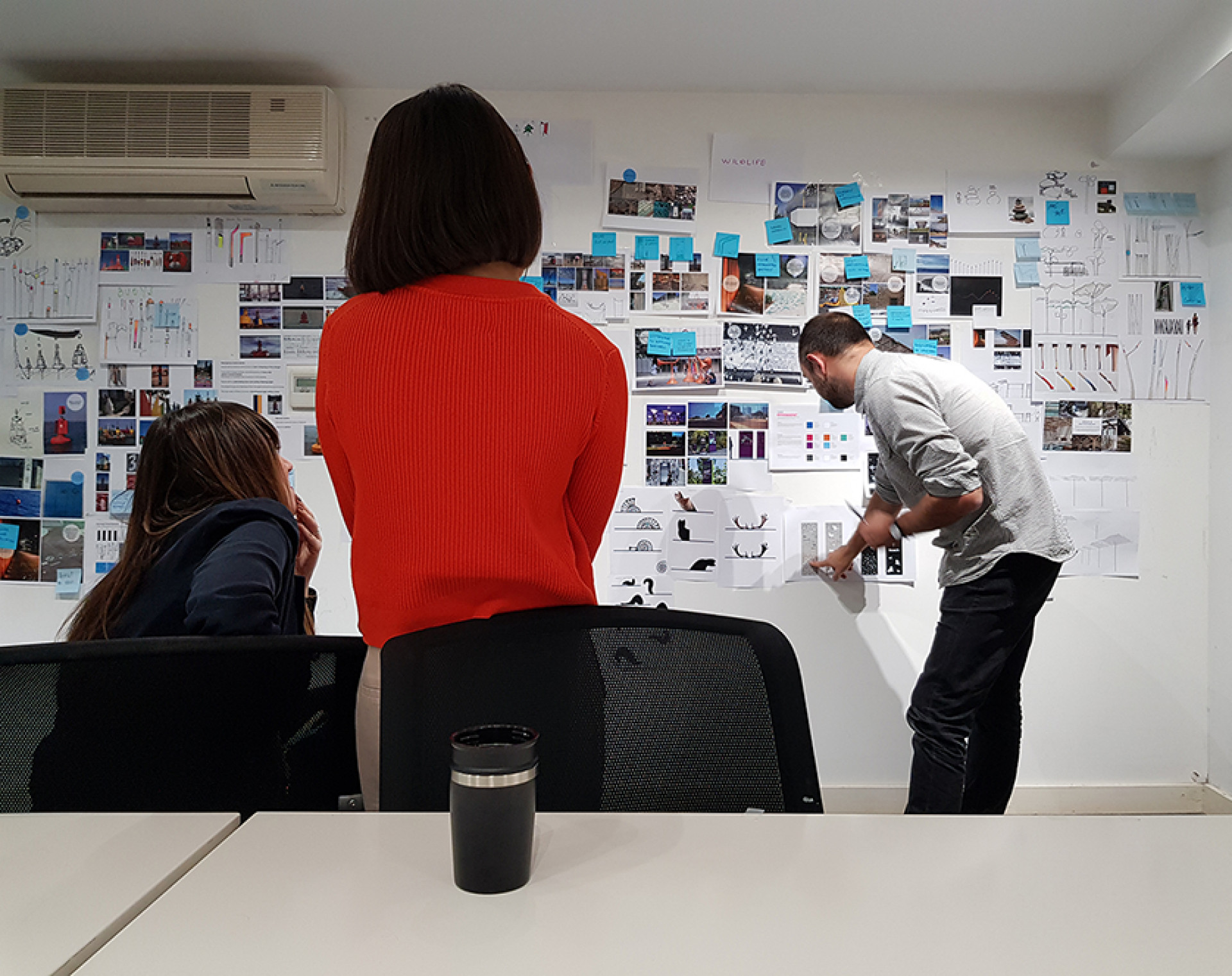 Robust wayfinding strategy
The key problem was that visitors saw a "sea of caravans" rather than having visual navigation cues from seeing the sea on the horizon. Without signage or landmarks, everywhere looked the same, which was disorientating – the navigational issues revolved around the park masterplanning and the lack of navigational cues.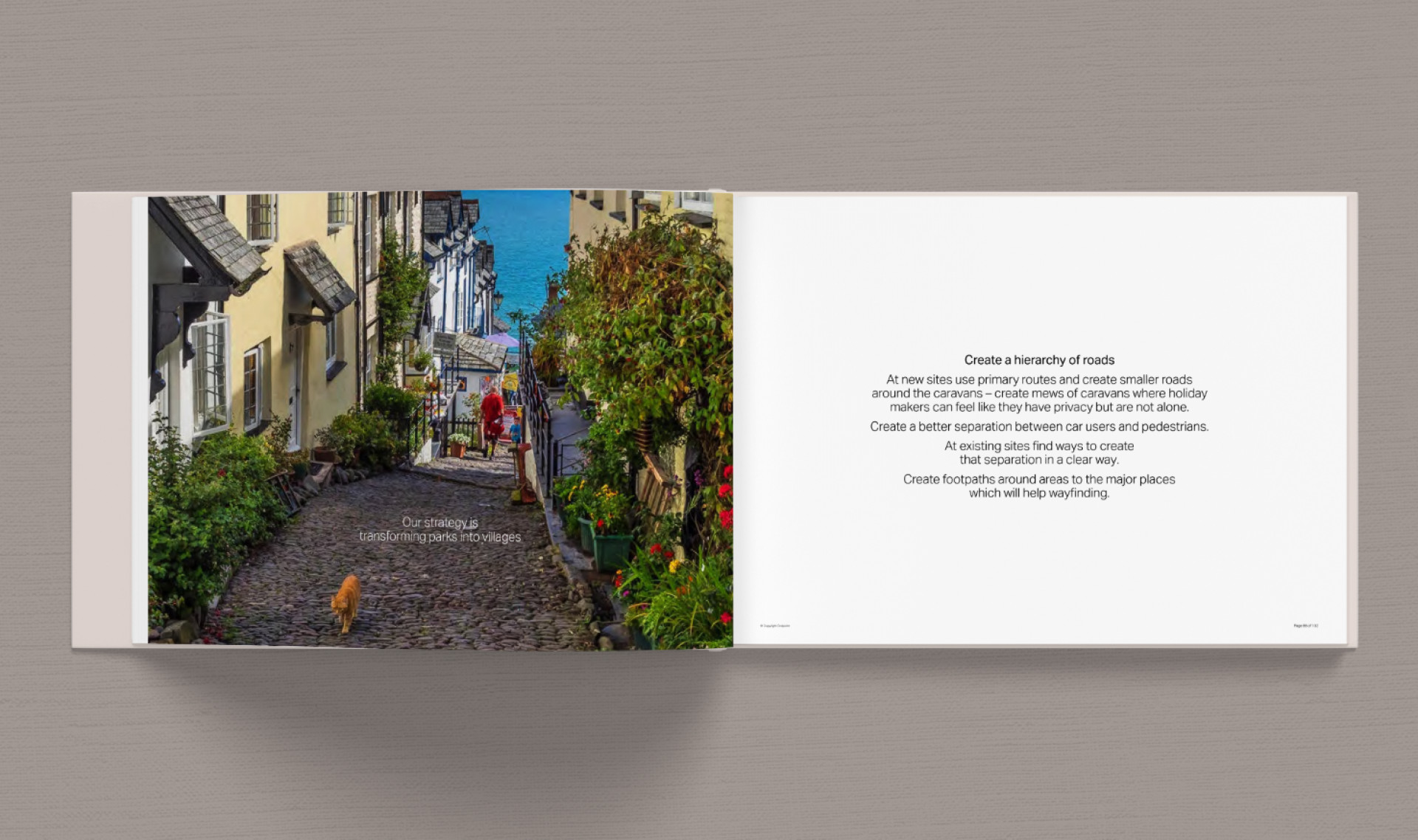 Building communities in holiday villages
Our strategic approach was to think of Haven as a village rather than a caravan park. The parks already shared elements that are integral to the success of a village, from a grocery store, to play areas, to a pub. Still, they needed a level of masterplanning rationalisation that would aid navigation for future parks.
A village usually has the following to create spaces that are easy to navigate:
A road system hierarchy and separation between pedestrians and vehicular traffic
A high point in the centre that can be seen from several places to aid reorientation
Centrally located amenities for community cohesion
Houses set into groups to create a series of sub-communities with their own green space for community cohesion and individual privacy and wellness
Landmarks that aid belonging, storytelling, as well as navigation
Placemaking to create a sense of fun and belonging.
Common elements with other villages alongside its own strong identity
Defined boundaries that create a sense of arrival and exit.
Considering holiday parks in this way provided a rationale for masterplanning and navigation. It ensures that future creative wayfinding projects are built around placemaking and instructional design. Each Park sits within the Haven family and expresses its own localised identity.
Placemaking concepts
After establishing the strategic foundation, we sketched how the strategy could develop into placemaking concepts and navigational ideas.
We created three different approaches around the concept of 'breath of fresh air':
Stick of rock
Bouys
Wildlife and nature
These three concepts appealed to the brand position in differing ways giving the client team a series of big ideas that would appeal to different types of holidaymakers. Our focus included creating an arrival experience that wowed holidaymakers – building excitement and expressing fun. We then considered landmark creation and navigation throughout the park experience that removed the ambiguity around wayfinding with a smile.
We provided Haven with a firm wayfinding foundation with a robust strategy and three different concept approaches that balanced on-site navigation needs with placemaking and landmark creation to help express their new positioning and excite their stakeholders and staff.