The Challenges
The Block is a cultural landmark in the heart of Dubai's creative district. Its unique design was conceived by the landscape architects from Desert INK to reflect the nature of the surroundings.
This unique urban landscape attracts community members and visitors alike, and the park features an outdoor gym, a multi-sports court, an urban beach, a skate park, and open lawns. Concrete blocks throughout the park form various features, including a slide and an intriguing labyrinth-like ravine that's naturally shaded.
However, over time the tall palm trees and lush vegetation have started to obscure various activity areas, access to washrooms, the water taxi station, and even the exit point. What 'The Block' needed was a revamped wayfinding and signage system, together with creative placemaking features that could add value to the park as a cultural destination.
The Solutions
After conducting a thorough site survey, we soon realised that the visibility of the facilities from the main path was the top priority to address. In addition, the innovative landscape design and strong identity of the park offered a unique opportunity to be creative with our designs – reflecting the unique character of The Block, whilst enhancing the visitor experience.
To translate the urban and playful feel of The Block, we drew inspiration from selfie moments, street art, and Instagrammable graphic walls. The conceptual idea took on human scale, with colourful 3D pictograms identifying each feature. This became the thread of the wayfinding design as pictograms come to life in each activity area, from playing basketball and volleyball to climbing walls and performing exercises. Traditionally placed by the door, the washroom pictogram appears to step out of the wall and come alongside the main path to indicate access. To complement the pictograms, the rest of the sign family takes on the fun character of the park by playing with the illusion of a cube-shaped block seen in perspective.
In terms of placemaking, we echoed the industrial look of the repurposed materials used in the landscape by identifying the park with a tall landmark visible 360 degrees from d3 and the adjoining highway. Its purpose is also to clearly mark the exit point. At the same time, the arrival experience is enhanced with colourful pedestrian crossing graphics, inciting curiosity and connecting The Block with the neighbouring community.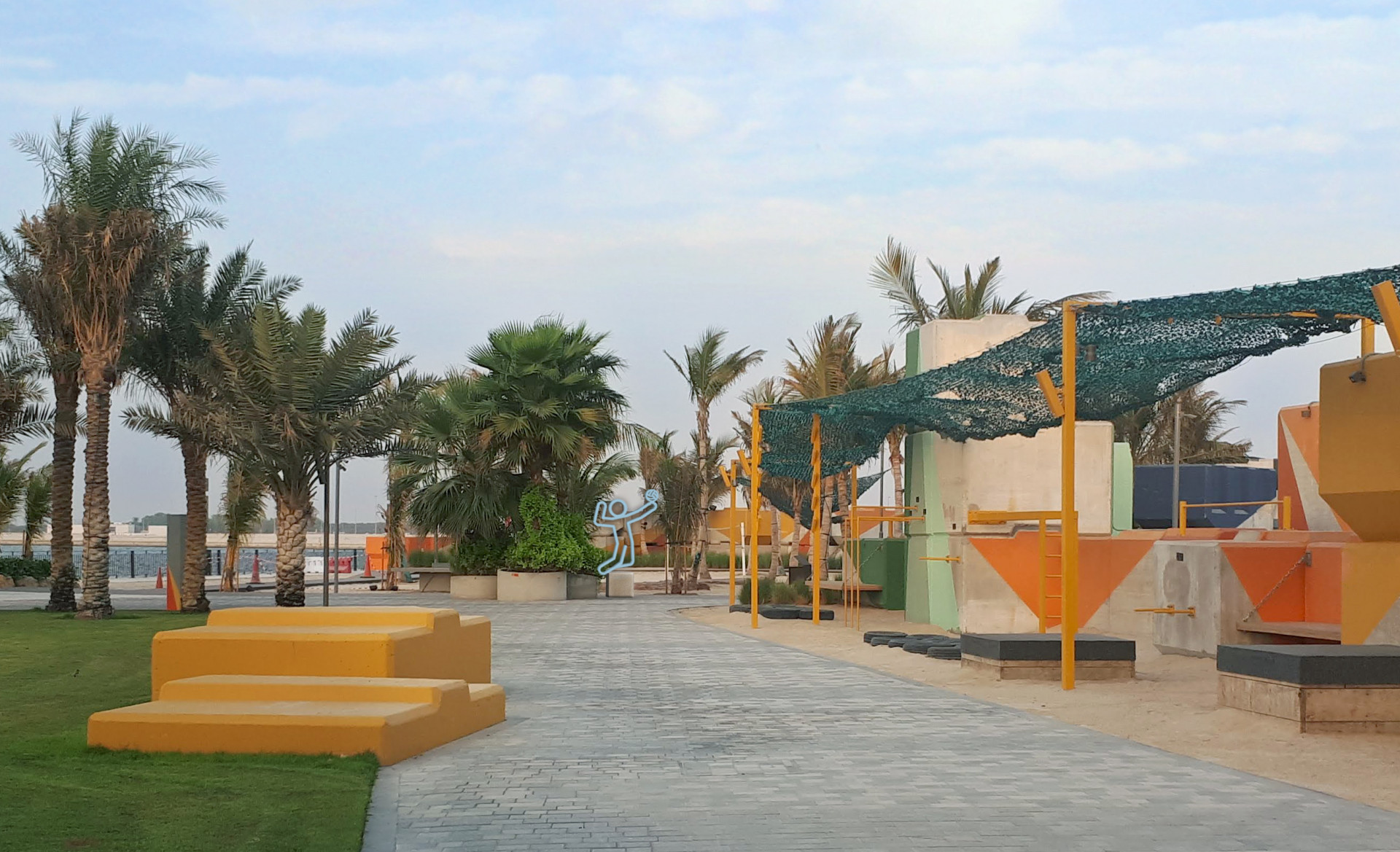 The Impact
Our wayfinding solution for the park combines both functionality and playfulness. The Block's facilities can be easily identified from the main pathway in a style that reflects its urban, fun, and edgy identity. The sculptural pictograms also go one step further by increasing engagement from the park's visitors, who range from families and children to sports fans and selfie lovers.
Not only were the designs well-received, but they also generated enthusiasm, and inspired a new project to adapt and extend the sign family to the rest of the TECOM parks – creating a unique and engaging experience for all its communities.