Unpicking the requirements of the development
As the site is opposite the London City Airport runway, moving successfully around the external spaces would combine three key elements: an address system, an architectural vision, and signage.
We unpicked which signage requirements we needed and reviewed what a successful address system should look like. Following this, we looked at the needs of future visitors; to help us create internal building signage – focusing on levels and facilities.
One of the most unique challenges was the masterplan phasing. Given that the site will change dramatically over the next ten years, we created signs that can be easily updated with removable panels and devised a sign placement strategy that would allow us to push people along the two key development spines – which will grow but will not change over time.
Place naming strategy: drawing on local history
To agree on a principle for naming buildings and streets, we led a number of workshops with key stakeholder groups to discuss the naming guidelines, the areas involved, and to agree on our approach to street suffix names. Those consulted included: ABP, Farrells, Newham Council, & the local emergency services.
The place naming themes we explored played homage to the Royal Albert Dock's global history and local importance. As a result, the new naming system honours China's historical links to the area, as well as former working wharfs, and influential local people – symbolising the integration of old traditions with the ambitions of the new development.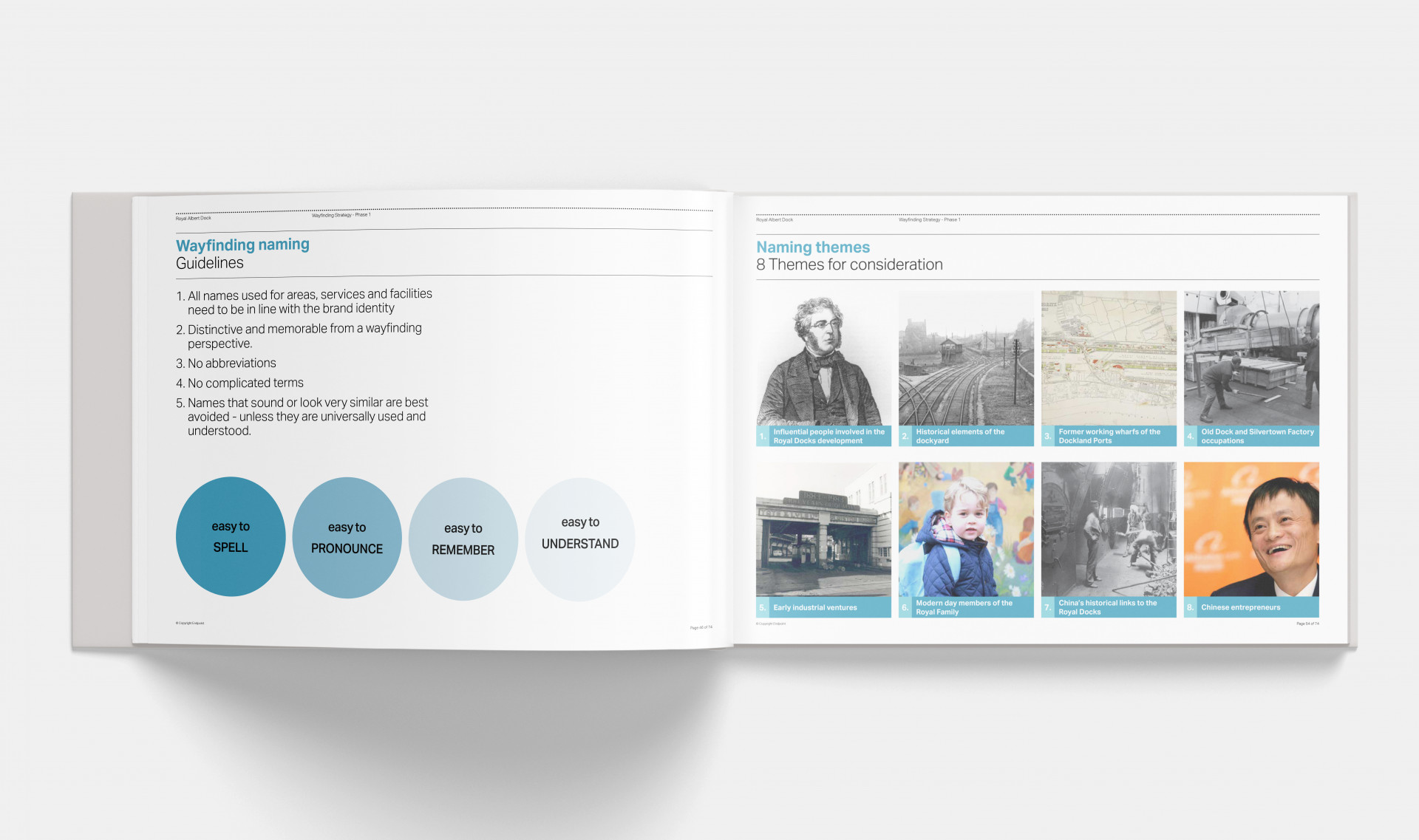 Forging a standout aesthetic
Our design stage saw us propose three concepts: latitude & longitude; light & ribbons, and Chinese junk ships. While longitude & latitude was chosen, aesthetic cues were taken from each concept – to show the site's global context and create a connection with China.
The coordinates for the site and major cities in China were distilled down to a series of dots. These were made visible across the sign design and worked well in the geometric approach to typography we took.