An ambitious and exciting restoration
With a history dating back to the 17th century, Theatre Royal Drury Lane, located in Covent Garden, is an iconic landmark in the West End's theatre landscape. It's been popular with theatre-goers, including royalty, since the Restoration. And it's a venue that's never been afraid to change with the times.
In January 2019, Andrew Lloyd Webber announced a historic and ambitious £60 million refurbishment of 'The Lane', seeking to unite 21st-century expectations with its 18th century glory days.
That involved revealing the Benjamin Dean Wyatt grand cantilever staircases for the first time in 100 years and reshaping the auditorium to create an unrivalled experience for audiences, performers and producers.
Front of house, there's a new street-level entrance and ramps to stalls. And with new bars, and restaurants offering a regency-inspired afternoon tea, cocktails and coffees throughout the day. The building is set to be enjoyed by everyone, whether they are coming to a show or not.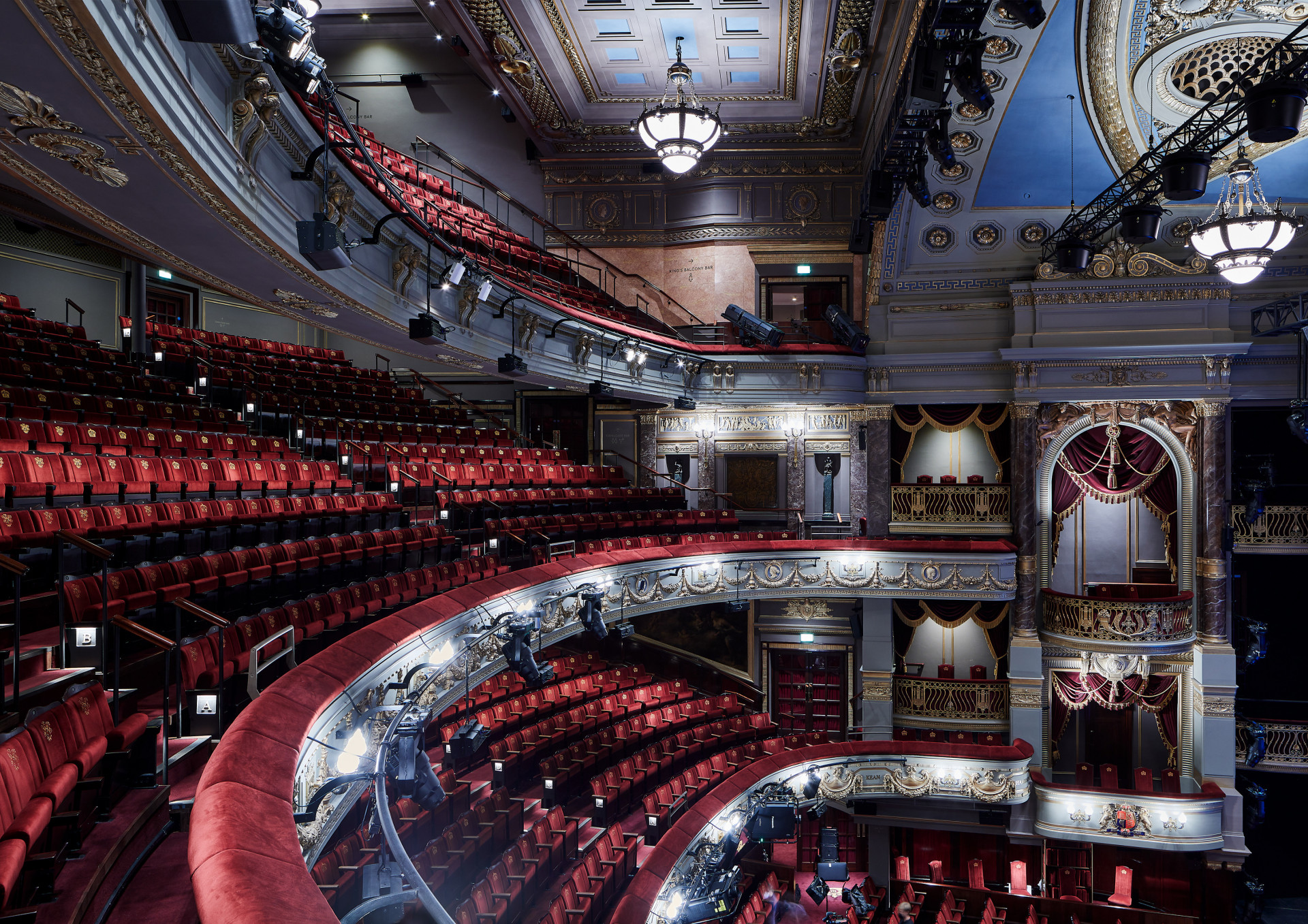 A Theatre fit for a King (and a Prince)
Driven by Andrew and Madeleine Lloyd Webber, with Haworth Tompkins Architect and Alexander Waterworth Interiors, Endpoint took up the wayfinding challenge. LW Theatres had recently gone through rebranding and were seeking to unite their diverse portfolio of theatres – whilst being true to each one's unique, historic past.
Theatre Royal Drury Lane has a fascinating history. The story goes that King George III enjoyed observing the audience arrive from the balcony of the rotunda. When he was upset that his son, Prince Regent George IV, was creating a disturbance – a rift between the two was caused. Keen to keep both royals happy, the theatre created two entrances: the King's side and the Prince's side – which remain in place today.

Preserving the past for a wayfinding future
It's this fascinating past that influenced the wayfinding and signage and wayfinding experience of the modern restoration. So imagine trying to match modern fonts with hand-carved 18th-century typography – mimicking a style built into centuries-old plaster.
That's what the Endpoint team found themselves doing as they set about on-site – tracing beautiful historic fonts in an effort to replicate them with a new wayfinding system.
The original wordmarks had a curved face, so we used cutting edge software to meticulously recreate this aesthetic. In essence, we created a fusion of 18th-century typography and modern production techniques.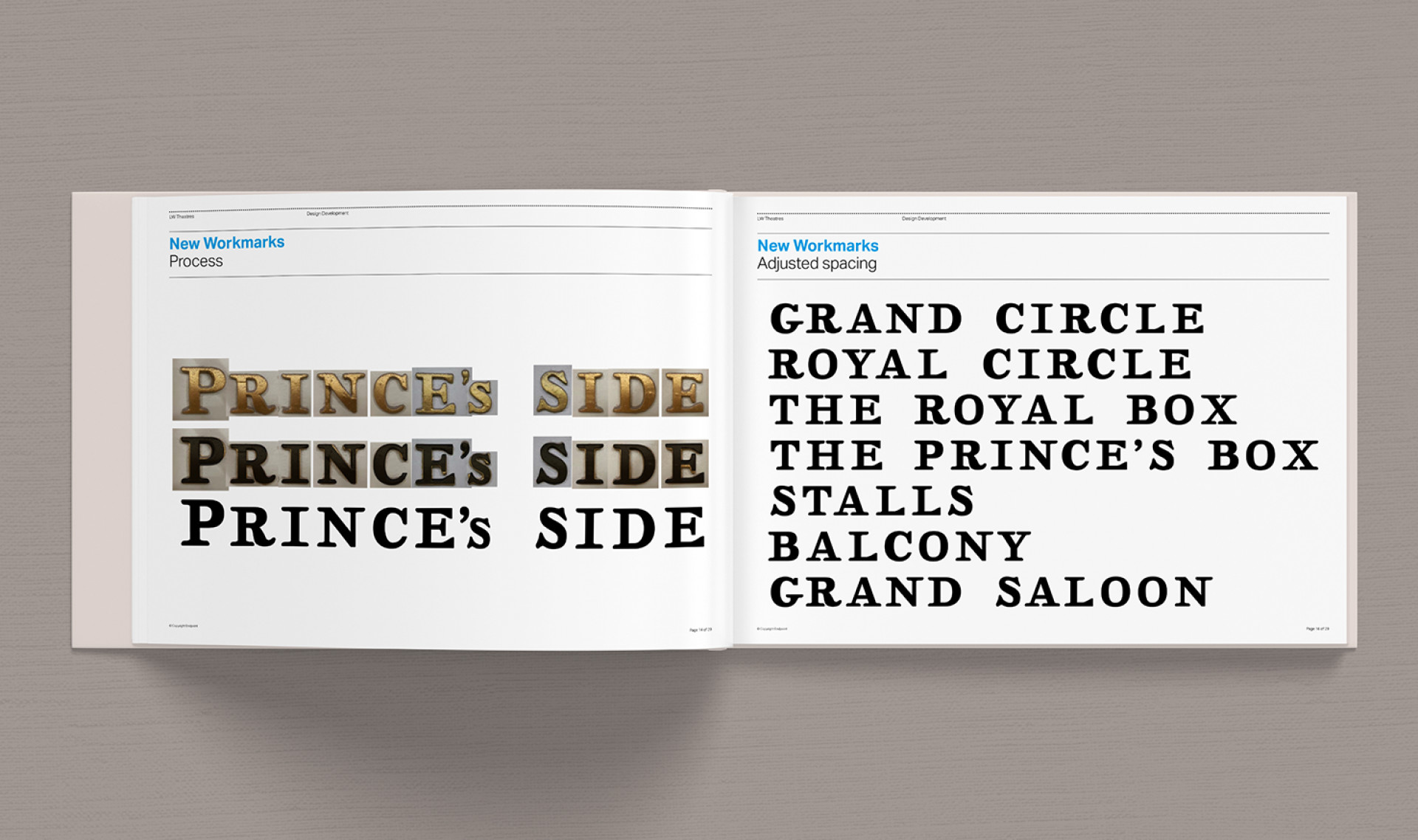 Some of the key wayfinding challenges were around the new additions to the site, like bars and toilets. Journeys like finding the right bar to collect your reserved drink, or navigating to the male or female toilets (located on different sides of the auditorium) were things that needed careful consideration.
At the same time, the signs needed to feel part of this very Georgian space, and the attention to detail around each individual letter, and how that would look on different surfaces was really significant. The signage also used raised brass individual letters and panels with raised, etched, and in-filled text – as well as screen printed text and graphics applied directly to finished wall surfaces.
It was even more important that the wayfinding and signage fitted the overall aesthetic and blended seamlessly with the overarching concept.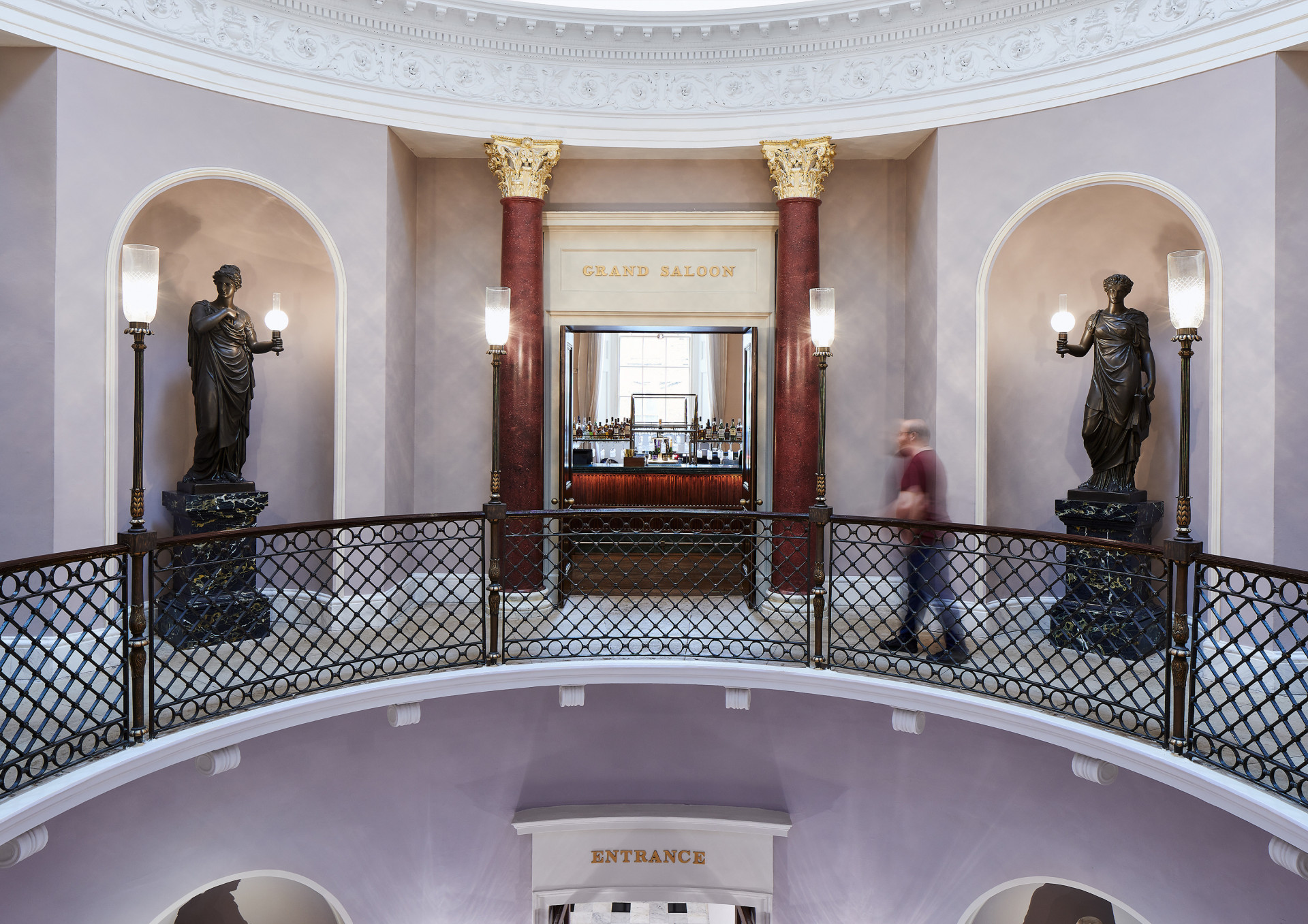 The Theatre Royal seal of approval
As the jewel in the crown of LW Theatres' portfolio, it was paramount that the signage system functioned effectively for visitors without distracting from the Georgian splendour.
Now that the finishing touches are made, Theatre Royal Drury Lane is finally ready for the show to go on. It opened in late June 2021 after nearly two years in a ceremony attended by the Prince of Wales.