Culturally Sensitive Branding
One of the unique challenges of The Queen's Diamond Jubilee Galleries project was to ensure the fixtures, fittings and signage integrated and respected the historical importance of Westminster Abbey.
All of the visual elements needed to be in keeping with the rest of the building. And with a brief of such high specification, the materials, sampling and prototyping needed to be of the highest quality. Quite simply, they needed to be fit for a queen.
Another aspect of working with such an iconic medieval building was the challenge of the installation itself. How do you install signs over uneven stonework and warped oak beams? How do you fix signage without drilling, bonding and anchoring to materials over 700 years old? And how exactly do you futureproof a signage fixing method?
Creative installation of wayfinding graphics
Endpoint collaborated with the designers and architect to create a prototype adjustable mounting frame for 44 artefact label signs.
Not only that, we also ensured that each one could be precisely fitted into uneven mortar with just two fixings. Our design meant that the frames could be drilled in-situ – to align with the mortar joints. Using a slotting system, the face of each label could be levelled.
To avoid damaging the ancient woodwork, we attached the label signs to french polished oak blocks, which were securely inserted into any available gaps. This way the overall look remained consistent – and allowed for expansion without damaging the original oak.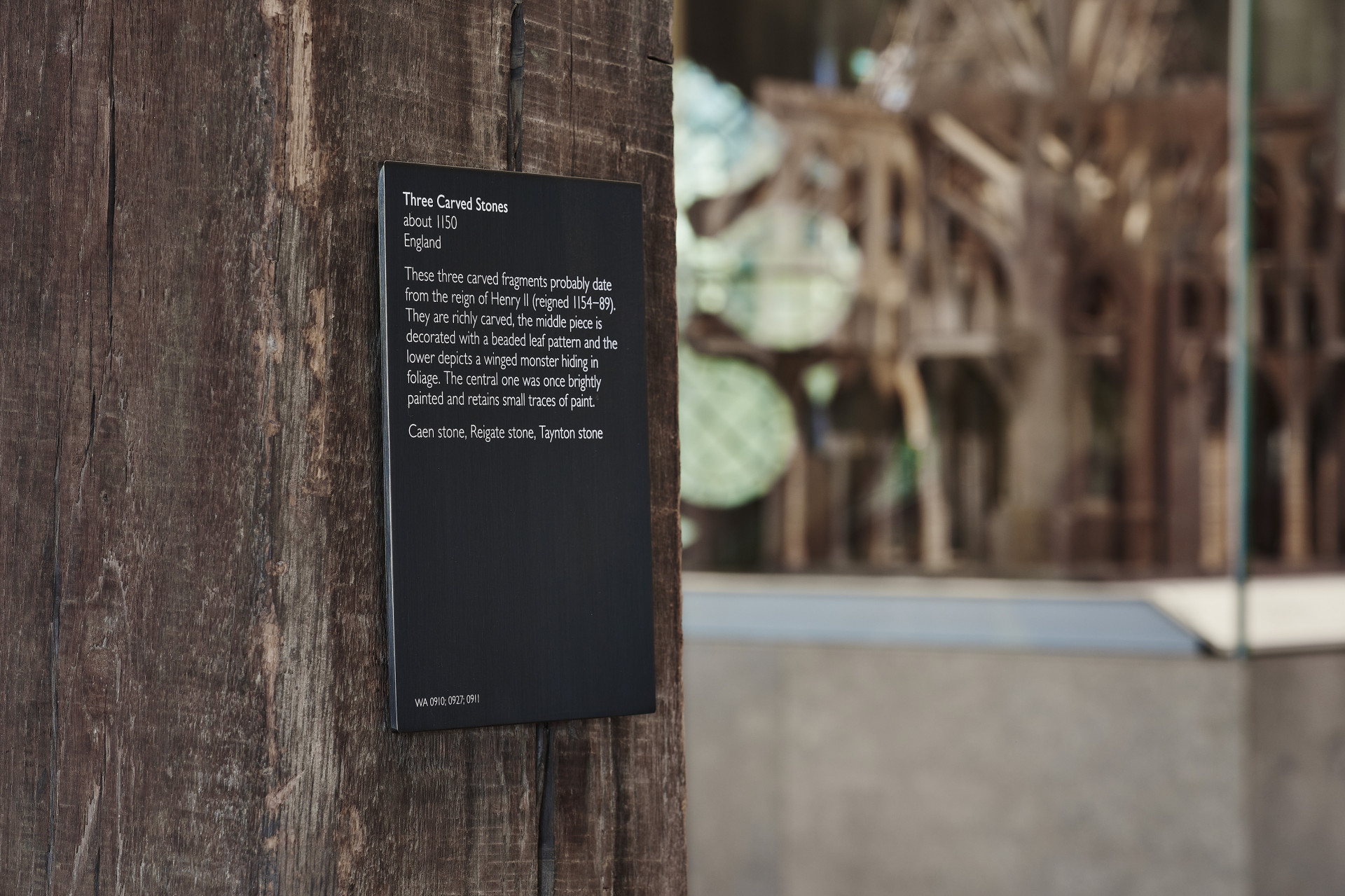 Restoring The Past for Future Generations To Enjoy
Combining contemporary techniques with traditional materials has culminated in a stunning and culturally sensitive addition to Westminster Abbey. The access staircase is housed in the new Weston Tower – the first structural addition to the abbey since 1745.
The wayfinding graphics bridge the past and the present, opening up the newly restored galleries to create a contemporary visitor experience whilst maintaining a deep reverence for this building's historic past.
Photos by Marcus Ginns